State Counselor License Exams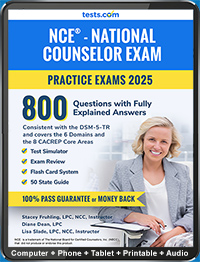 Each state
↵
has unique licensing and exam requirements for professional counselors. Use the following state guides to learn what the qualifications are for each state and how to apply for a counseling license, with information on the NCE and NCMHCE exams. To help you prepare for and pass the NCE on the first try, and get your counseling license, we recommend the NCE Practice Exam written by counseling experts and educators
.
Quality starts with who wrote the material.
Our practice exam writer
s
:
Diane Dean, LPC, RN-BC, MA,

Stacy Fruhling, LCPC, LCADC, NCC, MAC,

Lisa Slade, MS, LPC, NCC,
OUR PRACTICE EXAM COVERS THE ACTUAL NCE DOMAINS:
The NCE contains 200 multiple-choice, non-sectioned questions. There are different versions of the test. Test questions come from a pool of questions that have been extensively reviewed and researched for content accuracy and clarity.
Below are the eight domains tested by the NBCC on the NCE:
• Human Growth and Development
• Social and Cultural Diversity
• Helping Relationships
• Group Counseling
• Career Counseling
• Assessment and Testing
• Research and Program Evaluation
• Professional Orientation and Ethics

Five work behaviors are also tested:
• Fundamentals of Counseling
• Counseling Process
• Diagnostic and Assessment Services
• Professional Practice
• Professional Development, Supervision and Consultation