Oregon Counselor License Exam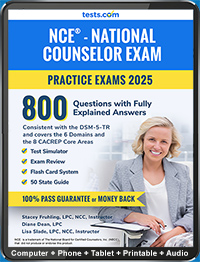 To get licensed in Oregon, Professional Counselors are required to take an exam covering such subjects as assessment and diagnosis, counseling and psychotherapy and professional ethics. Whether you live in Portland, Salem, Eugene, or another city or county, the resources below will help you get started on the path to receive your Professional Counselor's license.
Need of a License:
A license is needed to work as a counselor in Oregon. Licenses are granted by the
Board of Licensed Professional Counselors and Therapists
.
To qualify to become a licensed professional counselor in Oregon,
the following must be met:
How to Apply for Licensure
An
application for licensure
and
other documentation
can be obtained online. All documents must be sent to:
Board of Licensed Professional Counselors and Therapists
3218 Pringle Road, SE, Suite 250
Salem, OR 97302-6312
1-503-378-5499
1-503-373-1427 (fax)
lpct.board@state.or.us
www.oregon.gov/oblpct
Test Content of the NCE
The NCE measures the applicants' knowledge of the following eight content areas:
The psychology of human growth and development
Socio-cultural diversity
Establishing helping relationships
Group dynamics and group therapy
Career goals and development
Assessment of psychopathology and treatment needs
Research methods and program evaluation
Professional orientation and ethical practice.
The applicant's knowledge of the following five work areas are also measured by the NCE:
Fundamental issues in counseling
The process of counseling
Diagnostic and assessment services
Professional practice issues
Ongoing professional development and the need for clinical supervision and consultation.
The exam consists of 200 questions, 40 of which are not scored, but are included for purpose of research. The actual score is based on 160 questions. The number of questions the applicant must get correct to pass varies between test versions. Four hours are given to complete the exam.
For more information, see the NCE
Candidate Handbook
.
How to Apply to Take the Exam
A
PDF of the NCE registration i
s available online, along with test dates.
Test content of the NCMHCE
The NCMHCE consists of ten hypothetical clinical mental health counseling cases. The cases are clinical simulations that use a multiple select/correct format where there are multiple options as possible correct answers. The questions are centered on the ten cases and explore the nuances of the particular case. The NCMHCE assesses an applicant's ability to engage in clinical problem solving, including the identification, analysis, diagnosis and treatment of clinical issues.
Each of the ten cases is divided into five to eight sections and classified either as information gathering or decision making activities. The sections on Information gathering evaluate a candidate's ability to gather clinical data that is needed in the decision making process. The sections on decision making evaluate a candidate's ability to solve clinical problems using data.
The ten cases cover three content areas:
Assessment and Diagnosis
Integration of client assessment and observational date
Identification of precipitating problems/symptoms
Identification of level of individual or relationship functioning
Identification of pertinent familial issues
Counseling and Psychotherapy
Imparting information to the client about ethical standards and practice
Clarification of roles of the counselor and client
Apply individual counseling in accordance with the treatment plan
Evaluation of referral information
Administration, Consultation and Supervision
Maintenance of client records
Determine if counseling services being delivered are meeting client needs
Communicate orally with others to maintain professional communication
Assistance clients to connect with needed social services
Each of the ten cases in the NCMHCE is scored a +/- 3 which is based upon appropriate client/patient care. A passing score is above the minimum required for both the information gathering and decision making sections.
How to Apply to Take the Exam
You can find the
registration information
and the NCMHCE application online, or write:
The National Board of Certified Counselors
3 Terrace Way
Greensboro, North Carolina 27403-3660
(336) 547-0607
The exam is administered by
Pearson VUE
.
License Renewal and Continuing Education Requirements
To renew a license,
regulations
require 40 clock hours of continuing education in acceptable courses and programs offered by approved Continuing Education providers every two year license renewal period. Six hours in professional ethics must be included.
______________________________________________________
For more information on licensing and exam prep, go to Tests.com's
NCE Guide
.
And take Tests.com's free
NCE Practice Test
.

For counseling exam preparation products and services, such as study guides, practice tests, flashcards and courses, go to Tests.com's
NCE listings
.
Quality starts with who wrote the material.
Our practice exam writer
s
:
Diane Dean, LPC, RN-BC, MA,

Stacy Fruhling, LCPC, LCADC, NCC, MAC,

Lisa Slade, MS, LPC, NCC,
OUR PRACTICE EXAM COVERS THE ACTUAL NCE DOMAINS:
The NCE contains 200 multiple-choice, non-sectioned questions. There are different versions of the test. Test questions come from a pool of questions that have been extensively reviewed and researched for content accuracy and clarity.
Below are the eight domains tested by the NBCC on the NCE:
• Human Growth and Development
• Social and Cultural Diversity
• Helping Relationships
• Group Counseling
• Career Counseling
• Assessment and Testing
• Research and Program Evaluation
• Professional Orientation and Ethics

Five work behaviors are also tested:
• Fundamentals of Counseling
• Counseling Process
• Diagnostic and Assessment Services
• Professional Practice
• Professional Development, Supervision and Consultation