Florida Counselor License Exam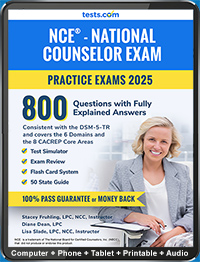 To get licensed in Florida, Professional Counselors are required to take an exam covering such subjects as assessment and diagnosis, counseling and psychotherapy, and administration, supervision and consultation. Whether you live in Jacksonville, Miami, Tampa or another city or county, the resources below will help you get started on the path to receive your Professional Counselor's license.
Need of a License: A license is needed to work as a counselor in Florida. Licenses are granted by the Board of Clinical Social Work, Marriage and Family Therapy, and Mental Health Counseling.
To qualify to become a licensed professional counselor in Florida, the following must be met:
Obtain a graduate degree in counseling from an accredited school meeting credit limits.
Two years Post graduate supervised experience including 1,500 hours providing psychotherapy, to be completed in not less than 100 weeks. There must be at least one hour of supervision every two weeks or at least one hour of supervision for every 15 hours of practice. With one hour of supervision every two weeks. At least every other supervisions session must be individual; the other can be group supervision.
An applicant must earn a passing score on the National Clinical Mental Health Counselor Examination (NCMHCE).
The applicant must complete the following courses: 1) Eight hours on Laws and rules, 2) two hours on prevention of medical errors, 3) three hours on HIV/AIDS, and 4) two hours on domestic violence. All of these courses must be taken with an approved provider. Items three and four must be completed within six months of licensure, items two and three before licensure.
How to Apply for Licensure
An application for licensure can be obtained online. All documents must be sent to:
Board of Clinical Social Work, Marriage and Family Therapy, and Mental Health Counseling
4052 Bald Cypress Way, BIN C-08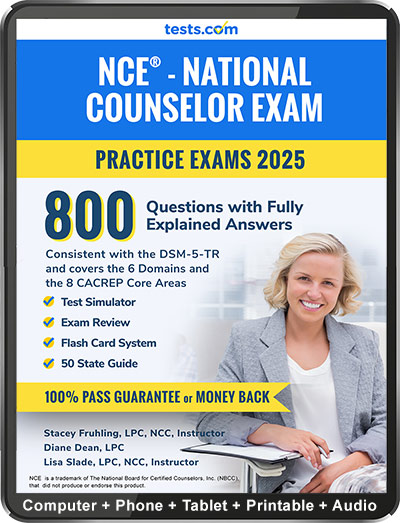 Tallahassee, FL 32399
850-245-4474
850- 921-5389 (fax)
The state of Florida requires a passing score on the NCMHCE.
Test content of the NCMHCE
The test format comprises of 12 to 14 case studies. Each case study is followed by 10 multiple-choice questions, divided into counseling phases: the intake and assessment phase, the first follow-up counseling session, and the second follow-up counseling session. Candidates will have one hour and 45 minutes to complete the exam.
Six different counseling domains will be addressed throughout these case simulations, to include:
Intake, Assessment, and Diagnosis
Treatment Planning
Counseling Skills and Interventions
Professional Practice and Ethics
Core Counseling Attributes
Areas of Clinical Focus, which is the given information provided in each case study
For more information, see the NCMHCE Candidate Handbook.
How to Apply to Take the Exam
You can find the registration information for the NCMHCE online, or write:
The National Board of Certified Counselors
3 Terrace Way
Greensboro, North Carolina 27403-3660
(336) 547-0607
The exam is administered by Pearson VUE.
License Renewal and Continuing Education Requirements
To renew a license, regulations require a total of 35 clock hours of continuing education in the following areas, every biennial license renewal period: 25 hours on general topics, two hours on medical errors, three hours on professional ethics and boundaries. Every third Biennial renewal, the 25 general hours must include three hours on laws and rules, and two hours on domestic violence.
---