State Medical Assistant Certification Exams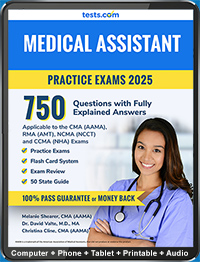 Certification may be necessary to get hired or to get a promotion as a medical assistant.
Use the following state guides to learn what the qualifications are for each state and how to apply to get certified as a medical assistant, with information on the CMA and RMA exams. To help you prepare for and pass the CMA and RMA exams on the first try, and get your certification, we recommend the Medical Assistant Practice Exam written by experts and educators in medical assisting
.
Quality starts with who wrote the material.
Our practice exam writer
s
:
Melanie Shearer,

Dr. David Valte,

Christina Cline,
Our Practice Tests follow the actual CMA (AAMA) Certification Exam Outline:
General

Administrative
Office Policies, Procedures

Clinical
Patient History, Interview
Preparing, Admin. Medications...
Nutrition
The three most popular medical assistant certifications are
: CMA by the American Association of Medical Assistants (
AAMA
), RMA by the American Medical Technologists (AMT) and the
NCMA
by the National Center for Competency Testing (
NCCT
). In most cases, certification by any of these organizations will be accepted nationally.