Oregon Medical Assistant Certification Exam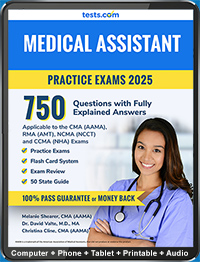 Certification in Medical Assisting
Medical assistants in Oregon not required to possess a certification, registration or medical assisting license to work as a medical assistant.
While the state does not require a license or certification, you may need to obtain certification to get a job as a medical assistant, to get a promotion or if you just want to enhance your career in medical assisting. You can obtain certification as a medical assistant from either the American Association of Medical Assistants (AAMA) or the American Medical Technologists (AMT). To get the credential in most circumstances, you will have to attend a school that is accredited in medical assisting. The courses at these schools will qualify you to take either the Certified Medical Assistant (CMA) exam or the Registered Medical Assistant (RMA) exam. Obtaining the CMA or RMA credential will provide employers with proof of having obtained skills at the nationally accepted standard level.
In Oregon, there is no governing body that oversees medical assistants. It is up to the individual employers to ensure that their medical assistant hires are capable of performing the job. There is the Oregon Society of Medical Assistants which is an affiliate of the AAMA. There are five chapters of the AAMA in Oregon.
How to Apply to become Certified or Registered as a Medical Assistant
You can apply online to become a CMA through the AAMA. You can also apply online to become an RMA through the AMT.
The Qualifications to become Certified or Registered in Medical Assisting
CMA
To qualify to become a certified medical assistant through the AAMA, a candidate must complete the following:
an accredited educational program in medical assisting; and
clinical training (supervised, unpaid on-site work experience in an ambulatory health care setting) in the following areas:

Human anatomy, physiology, and pathology
Medical law and ethics
Medical terminology
Patient relations
Keyboarding and computer applications
Office practices
Record keeping and accounting
First aid
Coding and insurance processing
Medication administration
Laboratory techniques
Pharmacology
Clinical and diagnostic procedures
You must complete and pass the exam for certification within 60 months of completing the program or you will need to repeat the course.
RMA
There are a number of ways to qualify to become an RMA through the AMT. Some of the routes to certification are as follows:
Graduate from an accredited medical assisting school
Graduate from a military medical service training program
Have 5 years (out of the last 7) experience working as a medical assistant
Have had 1-5 years of experience as an instructor of a medical assisting program
Test Content
CMA Exam
The CMA exam has the following parameters:
The CMA exam is a rigorous 200 question exam. Only 180 of the questions are graded with 20 random ungraded questions.
It is administered in four 40 minute segments, broken up by a brief tutorial and a few breaks. Plan for a total of about 3 hours to take the test.
You will need a minimum score of 425 to pass. You could score as high as 800. The questions are scored according to their difficulty. Easier questions are not worth as many points. The test will start you out with easier questions and as you pass them successfully, you will move on to more difficult questions.
Test content areas are:

Psychology
Communication
Professionalism
Medical Law and Regulatory Guidelines
Medical Ethics
Risk Management, Quality Assurance and Safety
Medical Terminology
Medical Reception
Patient Navigator/Advocate
Medical Business Practices
Establish Patient Medical Record
Scheduling Appointments
Practice Finances
Anatomy and Physiology
Infection Control
Patient Intake and Documentation of Care
Patient Preparation and Assisting the Provider
Nutrition
Collecting and Processing Specimens
Diagnostic Testing
Pharmacology
Emergency Management/Basic First Aid
RMA Exam
The RMA exam has the following parameters:
The test is 210 questions in length.
You have a full two hours to complete it.
You need to get 70% of the questions (147 questions) correct in order to pass.
Test content consists of:

General Medical Assisting Knowledge
Administrative Medical Assisting Skills
Clinical Medical Assisting Skills.
Find full detailed content for each of these three main areas here.
Certification Renewal Requirements
You may recertify your CMA credential by retaking the exam within 60 months of passing or with continuing education. Continuing education to maintain or recertify your CMA includes 60 credit hours, 30 of which is the minimum amount required to be taken through the AAMA.
To recertify as an RMA, you will have to comply with a Certification Continuation Program (CCP) every three years and abide by the AMT Standards of Practice.
---