Maryland Electrician Exam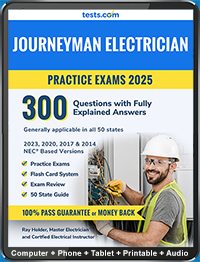 To get licensed in Maryland, master level and other electricians
are required to take an exam that covers such subjects as circuits, conductors, grounding, lighting and safety. Whether you live in Baltimore or Frederick or another city or county, the resources below will help you get started on the path to receiving your electrician's license.
Need of a License
: Only master electricians may be licensed for statewide work by examination. Master electricians still have to apply for a local license to work within a particular county or local municipality and meet local requirements. Municipalities are authorized to license electrical contractors and electricians to work within that particular jurisdiction. There is license reciprocity between in-state municipalities.
Qualifications and Exam Requirements
:
Applicants for a master electrician's license must have provided electrical services for all categories of electrical equipment for at least 7 years, while under the direction and supervision of a master electrician. The work must be documented in writing and the applicant must pass a comprehensive written examination.
After approval, an applicant must provide evidence of insurance coverage for liability and property damage prior to being licensed as a Master Electrician.
Who Grants a License
:
Maryland State Board of Master Electricians
How to Apply for the License
Master Electrician -
Apply for a License
How to Apply for the Exam
:
First, obtain a qualification information handbook and application package from PSI Examination Services, at (800) 733-9267. Next, completes the application and returns it to PSI Examination Services with the application fee and supporting documents. After approval, the applicant will be notified that he or she may schedule an examination which is given at least twice weekly at four (4) different locations throughout Maryland.
Test Content
:
ELECTRICAL THEORY
a. Definitions
b. Theory Including Ohm's Law
c. Techniques
d. Troubleshooting
e. Equipment/Devices
f. Instruments
g. Materials
h. Math
i. Conversions
j. Diagrams
k. Symbols
WIRING AND PROTECTION
METHODS AND MATERIALS
EQUIPMENT FOR GENERAL USE
SPECIAL EQUIPMENT
SPECIAL COMMUNICATIONS
CALCULATIONS
Passing Grade: 70%
Exam Details: Open Book, consists of 100 points.
See Candidate Booklet:
Qualification Info & Application Forms
Fees
: There are fees to obtain a license.
Who administers the test
: PSI 1-800-733-9267 Monday through Friday, by appointment, at four test centers in Maryland.
License Renewal Requirements:
2 years from date of issue on a staggered basis.
Applicable Code:
NEC 2011
______________________________________________________
To prepare for your electrician exam, use the following two practice exams by Ray Holder (Master Electrician and Certified Electrical Trade Instructor) which have 300 questions with fully explained answers:
Journeyman and Master Electrician Test Guide.
And take Tests.com's free
Journeyman Electrician Practice Test
and the
Master Electrician Practice Test
.
For electrician exam preparation products and services, such as study guides, practice tests, flashcards and courses, go to Tests.com's
Journeyman Electrician Exam
and
Master Electrician Exam
listings.