Kansas Electrician Exam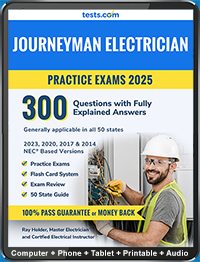 To get licensed in Kansas, electricians
may be required to take an exam that covers such subjects as circuits, conductors, grounding, lighting and safety. Whether you live in Kansas City, Topeka or Wichita or another city or county, the resources below will help you get started on the path to receive your electricians license.
Need of a License
: There is no state licensing of contractors or electricians in Kansas. Many local jurisdictions require licensing of contractors and one or more electricians working on a job site. All jurisdictions must honor the passing of the Block & Associates electrical exam to qualify for a license. Passing the Block & Associate master electrician exam qualifies for a contractor's license and the journeyman electrician exam for the electrician's license. Here are a few jurisdictions:
Kansas City
Topeka
Wichita
Applicable Code:
There is no statewide adoption of the National Electric Code, except for state owned buildings, which is NEC 2008. Local jurisdictions can enact their own codes.
______________________________________________________
To prepare for your electrician exam, use the following two practice exams by Ray Holder (Master Electrician and Certified Electrical Trade Instructor) which have 300 questions with fully explained answers:
Journeyman and Master Electrician Test Guide.
And take Tests.com's free
Journeyman Electrician Practice Test
and the
Master Electrician Practice Test
.
For electrician exam preparation products and services, such as study guides, practice tests, flashcards and courses, go to Tests.com's
Journeyman Electrician Exam
and
Master Electrician Exam
listings.