Colorado Electrician Exam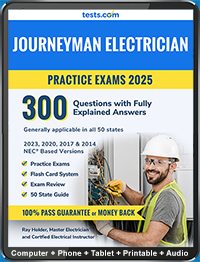 Need of a License
: To work as a residential wireman, journeyman electrician or master electrician in Colorado, a license is required.
Who Grants a License
: The state
Division of Professions and Occupations
, housed within the state Department of Regulatory Agencies (DORA), grants Colorado State Electrical Board licenses.
License Qualification Requirements:
Residential wireman
license candidates must verify a minimum of two years/4,000 hours of electrical construction of lights, heat and power wiring experience in one- to four-unit family dwellings.
Journeyman
electrician's license applicants must verify at least four years/8,000 hours of electrical construction wiring in lights, heat and power; must include two years/4,000 hours of commercial and/or industrial work. Reciprocal state licensing for journeyman (Alaska, Arkansas, Minnesota, Montana, Nebraska, New Hampshire, New Mexico, North Dakota, Oklahoma, South Dakota, Utah and Wyoming).
Master electrician
license candidates must satisfy journeyman requirements and verify an additional one year/2,000 hours of planning, lay-out and supervision of the installation of wiring, apparatus and equipment for electrical light, heat and power. Applicants may also have graduated from a board-approved electrical trade school or community college program with verification of four years/8,000 hours of practical electrical experience or be an electrical engineer graduate of an accredited college or university with a minimum of 2,000 hours of light, heat and power electrical experience. Master electrician candidates may waive base requirements with a reciprocal state journeyman license or a license by
endorsement
.
The Colorado State Electrical Board requires an
Affidavit of Experience
.
Exam Requirement:
To receive a license, candidates for master, journeyman and residential wireman licenses must pass a state electrical exam administered by the approved test administrator. For more information, review the
Candidate Handbook for Examination and Assessment (pdf).
How to Apply for the License
: Master, journeyman and residential wireman licensure candidates must submit an application to the Colorado State Electrical Board. Forms are available
online
.
Mail completed forms and fees to:
Colorado State Electrical Board
1560 Broadway, Suite 1350
Denver, CO 80202
For more information, call (303) 894-2300 or email
electrical@dora.state.co.us
.
Test Content:
The 4-1/2 hour exam for Residential Wireman, Journeyman and Master
Electrician contains 90 official questions and up to 10 pretest items (not counted when determining pass/fail status). Computer-based exam is drawn from current NEC (reference copies of NEC permitted). Content is the same for all three licensure levels, and includes:
Raceways
Conductors and Cable Assemblies
Services and Overcurrent Protection
Grounding and Bonding
Feeders and Branch Circuits
Motors and Generators
Equipment Use
Calculations
Fees:
There are fees for licensed electrician applications and for written exams. The exam fee includes the license fee; licenses issued immediately after passing the written examination.
Test Administration:
Pearson VUE
.
License Renewal Requirements:
Three-year renewal date and cycle coincides with release and adoption of the National Electrical Code (NEC); current exams based on 2011 NEC; next renewal application cycle begins August 2014. Continuing Competency program update via Colorado House Bill 09-1136 requires Individual Assessment based on current code (26 multiple-choice questions); online renewal available within one business day of passing assessment. Those who underperform are required to complete assigned Professional Development Units (PDUs) and submit documentation such as a certificate of completion.
Applicable Regulations
:
Electricians Practice Act
, effective July 1, 2010.
Applicable Code:
NEC.
Additional Information:
Electrical contractors must register with the Colorado State Electrical Board, but do not receive licenses. The
Application for Electrical Contractor's Registration
requires workers' compensation and unemployment insurance coverage details, signed Acknowledgment of Responsibility form and fee.
______________________________________________________
To prepare for your electrician exam, use the following two practice exams by Ray Holder (Master Electrician and Certified Electrical Trade Instructor) which have 300 questions with fully explained answers:
For more information on licensing and exam prep, go to Tests.com's Journeyman and Master Electrician Test Guide.

And take Tests.com's free Journeyman Electrician Practice Test and the Master Electrician Practice Test.

For electrician exam preparation products and services, such as study guides, practice tests, flashcards and courses, go to Tests.com's Journeyman Electrician Exam and Master Electrician Exam listings.