Virginia Nursing Assistant / Nurse Aide Guide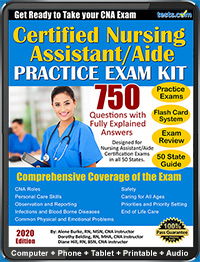 Is a License or Certification needed:
To get certified and work as a nursing assistant or nurse aide in Virginia, you need to complete a nursing assistant program and pass the National Nurse Aide Assessment Program (NNAAP) exam.
Who Grants Certification:
The
Virginia State Board of Nursing
grants certification to Virginia Nurse Aides.
The Qualifications to become Certified:
There are four routes of eligibility in order to qualify for receiving a nursing assistant or nurse aide license in the state of Virginia. These include:
As a new aide, you have successfully completed the Virginia state approved training program and have never worked as a nurse aide (even if you have failed the licensing test before).
You are a currently enrolled nursing student with 40 or more hours of clinical experience.
You are a graduate of a Licensed Practical Nurse or Registered Nurse program.
Your previous CNA certificate has lapsed.
How to Apply for Certification and to take the Exam:
In order to apply for Nurse Aide Licensure in the state of Vermont, you will need to:
Have completed a Virginia state approved nurse aide training program (that includes 40 hours of clinical practice) successfully; and
Apply to take the Virginia NNAAP examination with the Virginia State Certified Nurse Aide Exam Application. Fill out the application and send to:

NACES Plus Foundation, Inc.
8501 North Mopac Expressway, Suite 400
Austin, Texas 78759

Along with the application put these items in the envelope:


A certified check, money order, company check or Pearson VUE voucher in the proper amount made out to "NACES Plus Foundation, Inc."
Authorization from the Virginia Board of Nursing or a copy of your training program certificate
Virginia test sites can be found
here
.
Test Content
The NNAAP test has two parts, a Skills Evaluation and a Written (or oral) part. Both parts must be passed to be listed on the Virginia State Nurse Aide Registry. The written section is 70 questions in length, 60 are multiple choice and 10 are reading comprehension questions. Take two pencils with you. You will have two full hours to complete the exam. (The oral exam if given in place of the written exam is 160 questions in length.) The Skills Evaluation will be a 25 minute time period given to complete 5 randomly selected nurse aide skills.
Content topics include:
Activities of Daily Living – Hygiene, Dressing and Grooming, Nutrition and Hydration, Elimination, Rest/Comfort/Sleep
Basic Nursing Skills - Infection Control, Safety/Emergency, Therapeutic/Technical Procedures, Data Collection and Reporting
Restorative Skills – Prevention, Self-care/Independence
Psychosocial Care Skills – Emotional and Mental Health Needs
Spiritual and Cultural Needs
Communication
Client Rights
Legal and Ethical Behavior
Member of the Health Care Team
See the
Candidate Handbook
for more details.
Certification Renewal and Continuing Education Requirements:
According to Virginia law, to renew your license, you will need to have worked just 24 hours of employment during the past 24 months are required, although this must be paid employment, not volunteer work, and in a nursing environment such as a nursing home, home health setting or a hospital.
You can renew your license with the Virginia Department of Health Professions
here
.
Your original license will be valid for 12 months. At least 30 days before the expiration date of your license, the Virginia State Board of Nursing/Nurse Aide Registry will notify you requesting that you renew your license online at this
address
.
Contact
VA Nurse Aide Registry
VA Board of Nursing
Perimeter Center
9960 Mayland Drive, Suite 300
Henrico, Virginia 23233-1463
Phone: 804-367-4569
Fax: 804-527-4455
Automated: 804-270-6836
______________________________________________________

To prepare for your nursing assistant or nurse aide exam, use Tests.com's Certified Nursing Assistant Exam Practice Test Kit with 300 multiple choice questions, written by nursing experts and educators.
For more information on licensing and exam prep, go to Tests.com's
CNA Test Guide
.
And take Tests.com's free
CNA Practice Test
.
For nursing assistant and nurse aide exam preparation products and services, such as study guides, practice tests, flashcards and courses, go to Tests.com's
CNA
listings.
Quality starts with who wrote the material.
Our practice exam writer
s
:
Alene Burke, RN, MSN

Dorothy Belding, RN, MSH

Diane Hill, RN, BSN
National Nurse Aide Assessment Program (NNAAP) Exam Content Outline Review
I. Physical Care Skills
A. Daily Living Activities:
Hygiene
Dressing and Grooming
Nutrition and Hydration
Elimination
Rest/Sleep/Comfort
B. Skills of Basic Nursing:
Infection Control
Safety/Emergency
Therapeutic/Technical Procedures
Data Collection and Reporting
C. Restorative Skills:
Prevention
Self Care/Independence
II. Psychosocial Care Skills
A. Emotional and Mental Health Needs
B. Spiritual and Cultural Needs
III. Nurse Aide Roles
A. Communication
B. Client Rights
C. Legal and Ethical Behavior
D. Member of the Health Care Team