Vriginia Life and Health Insurance Agent Exam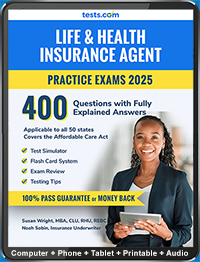 Need of a License:
An individual who is acting as an agent or producer needs a license to sell life and health insurance in Virginia.
Who Grants a License:
Licenses are granted by the
Virginia Bureau of Insurance
.
Qualifications to receive a License
: Individuals who wish to obtain an insurance license in the State of Virginia:
1. Be at least eighteen (18) years of age.
2. Be a resident of Virginia.
3. Make a reservation and pay the examination fee.
4. Pass the examination.
5. Apply for a license.
Applying for the Producer Exam:
It is highly recommended that the
Virginia Insurance Licensing Candidate Handbook
be reviewed, and special attention be given to the content outlines (available at www.pearsonvue.com), before taking an examination. The State of Virginia utilizes
Pearson VUE
to develop and administer its insurance licensing examination program. Online reservations are the most efficient way for candidates to schedule their examination. Candidates must go to
www.pearsonvue.com/va/insurance
to make an online reservation for an examination. Candidates may call (888) 204-6272 to make an exam reservation by phone.
Test Information:
Candidates who pass the examination will receive a score report that reads "pass," and no numeric score will be reported. Candidates who fail an examination will receive a numeric score. Each examination is based on a detailed content outline of topics, subtopics, and references to applicable state laws, statutes and regulations. The
Virginia Insurance Licensing Candidate Handbook
contains specific content information beyond the following general outlines:
LIFE AND HEALTH-GENERAL KNOWLEDGE CONTENT OUTLINE
- Product Knowledge, Terms and Concepts (100 scoreable questions plus 20 pretest questions)
I. TYPES OF LIFE POLICIES
A. Traditional whole life products
B. Interest/market-sensitive life products
C. Term life
D. Annuities
E. Combination plans and variations
II. LIFE POLICY RIDERS, PROVISIONS, OPTIONS, AND EXCLUSIONS
A. Policy riders
B. Policy provisions and options
C. Policy exclusions
III. COMPLETING THE APPLICATION, UNDERWRITING, AND DELIVERING THE LIFE POLICY
A. Completing the application
B. Underwriting
C. Delivering the policy
IV. TAXES, RETIREMENT, AND OTHER LIFE INSURANCE CONCEPTS
A. Third-party ownership
B. Group life insurance
C. Retirement plans
D. Life insurance needs analysis/suitability
E. Social Security benefits and taxes
F. Tax treatment of insurance premiums, proceeds, and dividends
V. TYPES OF HEALTH POLICIES
A. Disability income
B. Accidental death and dismemberment
C. Medical expense insurance
D. Medicare supplement policies
E. Group insurance
F. Long Term Care (LTC)
G. Limited Benefit Plans
VI. HEALTH POLICY PROVISIONS, CLAUSES, AND RIDERS
A. Mandatory provisions
B. Optional provisions
C. Other provisions and clauses
D. Riders
E. Rights of renewability
VII. SOCIAL INSURANCE
A. Medicare
B. Medicaid
C. Social Security benefits
VIII. OTHER HEALTH INSURANCE CONCEPTS
A. Total, partial, and residual disability
B. Owner's rights
C. Dependent children benefits
D. Primary and contingent beneficiaries
E. Modes of premium payments
F. Nonduplication and coordination of benefits
G. Occupational vs. non-occupational
H. Tax treatment of premiums and proceeds of insurance contracts
I. Managed care
J. Workers Compensation
K. Subrogation
IX. FIELD UNDERWRITING PROCEDURES
A. Completing application and obtaining necessary signatures
B. Explaining sources of insurability information
C. Initial premium payment and receipt and consequences of the receipt
D. Submitting application to company for underwriting
E. Ensuring delivery of policy and related documents to client
F. Explaining policy and its provisions, riders, exclusions, and ratings to clients
G. Replacement
H. Contract law
VIRGINIA-SPECIFIC LIFE & HEALTH CONTENT OUTLINE
- State, Statutes, Rules and Regulations (40 scoreable questions plus 5 pretest questions)
I. VIRGINIA STATUTES AND REGULATIONS COMMON TO LIFE, ACCIDENT AND HEALTH INSURANCE
A. State Corporation Commission/ Commissioner of
B. Agent Licensing
C. Fiduciary responsibilities
D. Commissions and compensation
E. Felony convictions/ administrative actions
F. Record Retention
G. Marketing practices
H. Virginia Life, Accident and Health Insurance Guaranty Association
I. Insurance Information and Privacy Protection
II. VIRGINIA STATUTES AND REQUIREMENTS PERTINENT TO LIFE INSURANCE ONLY
A. Rules Governing Advertisement of Life Insurance and Annuities
B. Suitability in Annuity Transactions
C. Replacement
D. Accelerated benefits
E. Group Life
G. Military Sales
III. VIRGINIA STATUTES AND REGULATIONS PERTINENT TO HEALTH INSURANCE ONLY
A. Medicare supplements
B. Long term care
C. Advertising
D. Minimum standards for Individual Policies
E. Health Insurance Portability and Accountability Act (HIPAA)
F. Group Insurance
G. Defined
H. Health Maintenance Organizations (HMOs)
I. Small employer
How to Apply for the License:
After passing your exam, submit all of the following to the Bureau:
• The electronic application;
• A current (no more than 90 days old) Criminal History Record Report, which must be obtained through the Virginia State Police, or if you have resided in Virginia for less than six months, a Criminal History Record Report from your previous home state; and
• A $15 nonrefundable, nontransferable license application processing fee for each license type.
You do not have to submit proof of passing the exam. Virginia law requires that you must apply for and be issued a license within 183 calendar days of passing the examination, or you will have to retake the examination. For complete licensing procedures and to apply online, visit the Bureau's website at
www.scc.virginia.gov/boi
.
State Licensing Information:
State Corporation Commission Bureau of Insurance Agents
Licensing Section
PO Box 1157
Richmond, VA 23218
Overnight Delivery:
State Corporation Commission Bureau of Insurance
Agents Licensing Section
1300 East Main Street
Richmond, VA 23219
Phone
(804) 371-9631
Fax
(804) 371-9290
www.scc.virginia.gov/boi
Pearson VUE Licensing Information:
Pearson VUE
Virginia Insurance
Attn: Regulatory Program
5601 Green Valley Dr.
Bloomington, MN 55437
(888) 204-6272
License Renewal Requirements:
Individual Producer licenses must be renewed every two years and there is a continuing education requirement.
Applicable Regulations:
Life and health insurance agents in Virginia are regulated by the
Virginia Bureau of Insurance
.
For more information on life and health insurance agent licensing and exam preparation, go to Tests.com's
Life and Health Insurance Exam Guide
.
And take Tests.com's free
Life and Health Insurance Agent Practice Test
.
For life and health insurance agent exam preparation products, such as study guides, flashcards and courses, go to Tests.com's
Life and Health Insurance Sales Exam
listings.