Utah Nursing Assistant / Nurse Aide Guide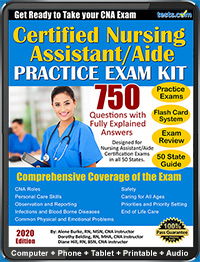 Is a License or Certification needed:
To get certified and work as a nursing assistant or nurse aide in Utah, you need to complete a nursing assistant program and pass the Nursing Assistant Training and Competency Evaluation Program (NATCEP) exam.
Who Grants Certification:
The
Utah Nursing Assistant Registry
maintains the registry of nurse aides. A company called D & S Diversified grants certification to nursing assistants or nurse aides.
The Qualifications to become Certified:
To qualify for nursing assistant or nurse aide certification in Utah you must successfully complete the Utah NATCEP program.
How to Apply for Certification and to take the Exam:
In order to apply for Nurse Aide Licensure in Utah, you will need to use the Utah State Certified Nurse Aide Exam
Application
. Fill out the application and send it along with proof of NA training program completion and the appropriate fee to:
Utah Nursing Assistant Registry
550 East 300 South
Kaysville, Utah 84037
Utah test sites can be found and scheduled
here
.
Test Content
The NATCEP exam has two parts, a Skills Evaluation and a Written section. Both parts must be passed to be listed on the Utah State Nurse Aide Registry. The written section is 100 questions in length. You will have 90 minutes to complete the exam and must receive a 75% to pass.
The questions on the written exam are from OBRA defined categories. Content topics include:
Safety
Communication
Infection Control
Data Collection
Personal Care
Basic Nursing Skills
Mental Health
Role and Responsibility
Care Impaired
Disease Process
Resident Rights
Older Adult Growth & Development
You can find all details in a
candidate handbook
.
The skills evaluation will be a 20-40 minute time period given to complete 5 selected nurse aide skills plus the skills of Hand Washing and Vital Signs. If you feel that you have missed a step, verbalize to your instructor that you missed it and perform the step. Your instructor is only allowed to give you two hints total for all 7 skills. You must memorize all beginning and ending steps of each skill. If you miss one of the critical steps, you will fail the skills portion automatically. The critical steps are bolded in the handbook.
Certification Renewal and Continuing Education Requirements:
According to Utah law, to renew your license, it is required that you have had 200 hours of employment in the paid role of a nurse aide, under a registered nurse, during the past 24 months. This must be paid employment, not volunteer work, and in a nursing environment such as a nursing home, home health setting or a hospital.
You can renew your license with the Utah Nursing Assistant Registry at this
link
. There is no fee for Registration Renewal. Send this form to the Utah Nurse Aide Registry, information below. For further renewal info see
here
.
Contact
UT Nurse Aide Registry
UT Health Technology Certification Center
Room 2036, 550 E. 300 South
Kaysville, UT 84037
Phone: 801-547-9947
Fax: 801-593-2584
______________________________________________________

To prepare for your nursing assistant or nurse aide exam, use Tests.com's Certified Nursing Assistant Exam Practice Test Kit with 300 multiple choice questions, written by nursing experts and educators.
For more information on licensing and exam prep, go to Tests.com's
CNA Test Guide
.
And take Tests.com's free
CNA Practice Test
.
For nursing assistant and nurse aide exam preparation products and services, such as study guides, practice tests, flashcards and courses, go to Tests.com's
CNA
listings.
Quality starts with who wrote the material.
Our practice exam writer
s
:
Alene Burke, RN, MSN

Dorothy Belding, RN, MSH

Diane Hill, RN, BSN
National Nurse Aide Assessment Program (NNAAP) Exam Content Outline Review
I. Physical Care Skills
A. Daily Living Activities:
Hygiene
Dressing and Grooming
Nutrition and Hydration
Elimination
Rest/Sleep/Comfort
B. Skills of Basic Nursing:
Infection Control
Safety/Emergency
Therapeutic/Technical Procedures
Data Collection and Reporting
C. Restorative Skills:
Prevention
Self Care/Independence
II. Psychosocial Care Skills
A. Emotional and Mental Health Needs
B. Spiritual and Cultural Needs
III. Nurse Aide Roles
A. Communication
B. Client Rights
C. Legal and Ethical Behavior
D. Member of the Health Care Team