Texas Nursing Assistant / Nurse Aide Guide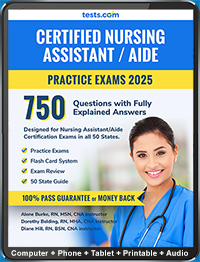 Is a License or Certification needed:: To get certified and work as a nursing assistant or nurse aide in Texas, you need to complete a nursing assistant training and certification program (NATCEP) and pass the National Nurse Aide Assessment Program (NNAAP) exam.
Who Grants Certification: The Texas Department of Aging and Disability Services (DADS), Regulatory Services Division, Licensing, Credentialing and Enforcement Section grants certification to Texas nursing assistants and nurse aides.
The Qualifications to become Certified: The qualifications necessary to receive a nursing assistant or nurse aide license in Texas include:
Complete a state-approved NATCEP program successfully; and
Complete the competency evaluation program examination successfully; or
Qualify by waiver or reciprocity, to be placed on the Texas Nurse Aide Registry.
How to Apply for Certification and to take the Exam: In order to apply for nursing assistant/nurse aide licensure in Texas, you will need to:
complete a 100-hour state-approved nurse aide training program (that includes 40 hours of clinical practice) successfully; and
apply to take the Texas NNAAP examination with the Texas State Certified Nurse Aide Exam Application. If further information is necessary, you may contact NACES: 1-800-444-5178 or 512-467-0615.
Texas test sites can be found here.
Test Content: The NNAAP exam has two parts, a Skills Evaluation and a Written (or oral) part. Both parts must be passed to be listed on the Texas State Nurse Aide Registry. The written section is 70 questions in length, 60 are multiple-choice and 10 are reading comprehension questions. Take two pencils with you. You will have two full hours to complete the exam. (The oral exam if given in place of the written exam is 160 questions in length.) The Skills Evaluation will be a 25 minute time period given to complete 5 randomly selected nurse aide skills. Content topics include:
Activities of Daily Living – Hygiene, Dressing and Grooming, Nutrition and Hydration, Elimination, Rest/Comfort/Sleep
Basic Nursing Skills - Infection Control, Safety/Emergency, Therapeutic/Technical Procedures, Data Collection and Reporting
Restorative Skills – Prevention, Self-care/Independence
Psychosocial Care Skills – Emotional and Mental Health Needs
Spiritual and Cultural Needs
Communication
Client Rights
Legal and Ethical Behavior
Member of the Health Care Team
You can find more specific details here.
Certification Renewal and Continuing Education Requirements: According to Texas law, to renew your license, you will need to have worked just 24 hours of employment during the past 24 months are required, although this must be paid employment, not volunteer work, and in a nursing environment such as a nursing home, home health setting or a hospital.
You can renew your license with the Texas State Nurse Aide Registry at the address below.
In order to meet the Texas state continuing education requirements, you may follow the directions on this page.
Contact
TX Nurse Aide Registry
TX Department of Aging & Disability Services
Mail E-414
PO Box 149030
Austin, TX 78714-9030
Phone: 512-438-2050
Fax: 512- 438-2052
Verification: 800-452-3934
---