South Dakota Nursing Assistant / Nurse Aide Guide
select c.adid, a.link, a.image, a.image2, a.imgalt from adcategories c, ad a where c.categoryid=258 and c.adid=a.adid order by c.rank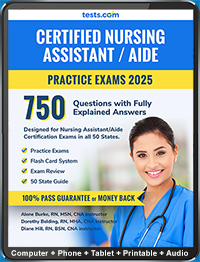 Is a License or Certification needed: To get certified and work as a nursing assistant or nurse aide in South Dakota, you need to complete a nursing assistant program and pass a nursing aide exam. You must also be listed on the state's nurse aide registry.
Who Grants Certification: The South Dakota State Board of Nursing (SDBON) maintains the registry of nurse aides. A company called D & S Diversified grants certification to nursing assistants or nurse aides.
The Qualifications to become Certified: To qualify for nurse aide certification in South Dakota, you must do one of the following:
Anyone who has completed the 75-hour nurse aide course approved by the state of South Dakota may apply for Nurse Aide Certification
A student who is already enrolled in an LPN or RN nursing program that has been approved by the SDBON and who has successfully completed the course, Fundamentals of Nursing, may receive a waiver to skip the 75 hours nurse aide training and go straight to the state CNA written and manual skill exams.
Candidates for the state-certified nurse aide exam who have a medical background in other areas may be granted a waiver of completing the South Dakota Nurse Aide Training Program. See more details here.
How to Apply for Certification and to take the Exam: In order to apply for nurse aide licensure in South Dakota, you will need to:
Use the South Dakota State Certified Nurse Aide Exam Application forms.

Fill out the application and send it along with proof of the above qualifications to:

South Dakota Department of Health
4305 S Louise Ave Suite 201 W
Sioux Falls SD 57106

See South Dakota test sites.
Test Content: The Certified Nurse Aide Test has two parts, a written section and a skills evaluation. Both parts must be passed to be listed on the South Dakota State Nurse Aide Registry. The written section is 75 questions in length. You will have 90 minutes to complete the exam and must receive a 75% to pass.
The written exam covers the following topics:
Safety
Communication
Infection Control
Data Collection
Personal Care
Basic Nursing Skills
Mental Health
Role and Responsibility
Care Impaired
Disease Process
Resident Rights
Older Adult Growth and Development
You can find all details for the written exam here.
The skills evaluation will be a 35 minute time period given to complete 5 selected nurse aide skills. The first skill with be either the Bedpan/Measuring Output Skill or the Perineal Care Skill. You must actually wash your hands during this first skill. For the last 4 skills, you may verbalize that you are "washing your hands". If you feel that you have missed a step, verbalize to your instructor that you missed it and perform the step. If you miss one of the critical steps, you will fail the skills portion automatically. The critical steps are bolded in the handbook.
Certification Renewal and Continuing Education Requirements: According to South Dakota Law, to renew your license, it is required that you have had employment in the role of a paid nurse aide, under a registered nurse, during the past 24 months. This must be paid employment, not volunteer work, and in a nursing environment such as a nursing home, home health setting or a hospital.
You can renew your license online with the SDBON.
For further information, follow this link.
Contact
SD Nurse Aide Registry
SD Board of Nursing
4305 South Louise Avenue, Suite 201
Sioux Falls, SD 57106-3115
Phone: 605-362-2760
Fax: 605-362-2768
---
select linkname, url, template, examid, viewid, pageid from categorylinks where catid=258 order by posn
PHP Error
Error number 8: Undefined variable: PageID
Line 3 of /home/testdeveloper/secure_html/Alp/views/templates/TemplateRightColumn.php
PHP Error
Error number 8: Undefined variable: PageID
Line 52 of /home/testdeveloper/secure_html/Alp/views/templates/TemplateRightColumn.php
PHP Error
Error number 8: Undefined variable: PageID
Line 61 of /home/testdeveloper/secure_html/Alp/views/templates/TemplateRightColumn.php

select name, value from publiccontent where page='home' or page='All Pages'