Rhode Island Massage Therapist License Exam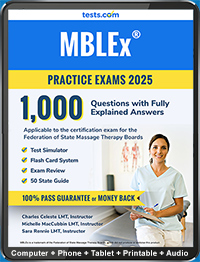 To get licensed in Rhode Island, massage therapists are required to take a massage exam that covers such subjects as anatomy, physiology, pathology and kinesiology. Whether you live in Providence, Newport or another city or county, the resources below will help you get started on the path of receiving your massage license.
Need of a Massage License: A massage therapist needs a license to practice massage therapy in Rhode Island.
Who Grants a License: Licenses are granted by the Rhode Island Department of Health, Board of Massage Therapy.
Qualifications to receive a License: A candidate needs to complete a minimum of 500 hours of massage therapy education which includes study and practical training specifically designed to provide knowledge and skills necessary for the practice of massage. The 500 hours shall be composed of at least:
- 100 hours of anatomy/physiology
- 300 hours of theory of massage therapy, including applied anatomy and physiology
- 100 hours of elective subjects, including CPR, business, law, ethics and professionalism
The candidate must also pass the Massage and Bodywork Licensing Examination (MBLEx).
For more information on qualifications, see Rhode Island Massage Therapist.
Applying for the Massage Exam: Candidates can apply online to take the MBLEx. More information can be found on the MBLEx in a Candidate Handbook.
Test Content: The MBLEx exam consists of 100 multiple-choice questions with four choices provided for each question. Test takers have 110 minutes to complete the computer-based exam.
The exam is divided into eight content areas:
- Anatomy & Physiology
- Kinesiology
- Pathology, Contraindications, Areas of Caution, Special Populations
- Benefits and Physiological Effects of Techniques that Manipulate Soft Tissue
- Client Assessment, Reassessment, & Treatment Planning
- Overview of Massage & Bodywork History/Culture/Modalities
- Ethics, Boundaries, Laws, Regulations
- Guidelines for Professional Practice
How to Apply for the License: Candidates must provide the Board the following documents: (1) completed application; (2) transcript of completed course of study; (3)letters of good moral character; (4) first aid and CPR certification; (5) criminal background check; and (6) verification of passage of the NCETM, NCETMB or the MBLEx. Candidates must send the documents to:
Rhode Island Board of Massage Therapy
Room 104
3 Capitol Hill
Providence, RI 02908-5097
MBLEx transcripts must be sent directly from the testing organization.
Fees: There are fees to apply to become a licensed massage therapist.
Who Administers the Massage Tests: The MBLEx is administered by the Federation of State Massage Therapy Boards (FSMTB) and Pearson Vue.
License Renewal Requirements: A massage therapist must renew her license every year.
Applicable Regulations: Massage therapists in Rhode Island are governed Rules and Regulations for Licensing Massage Therapists, R23—20.8-MA.
---