North Carolina Nursing Assistant / Nurse Aide Guide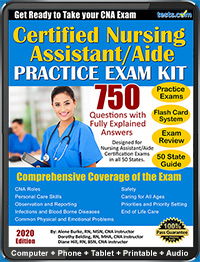 Is a License or Certification needed:
To get certified and work as a nursing assistant or nurse aide in North Carolina, you need to complete a nursing assistant program and pass the National Nurse Aide Assessment Program (NNAAP) exam. You must also be listed on the North Carolina State Nurse Aide Registry.
Who Grants Certification:
The
North Carolina Board of Nursing
grants certification to North Carolina nursing assistants and nurse aides.
The Qualifications to become Certified:
In order to receive a new nurse aide certification in the state of North Carolina, you must:
Successfully pass a background check and complete a 75 hour state-approved nurse aide program within the past two years and in just 3 attempts or less.
or
Be enrolled in an LPN or RN program and pass the Pearson Vue state test for Nurse Aides
How to Apply for Certification:
If you have never been a nurse aide before in North Carolina or any other state, in order to apply for your North Carolina nurse aide license, you will need to attend and successfully complete a training program. You can find a list of these programs
here
.
If you have been a nurse aide in another state and want to transfer your license to North Carolina, you need to know that there are rules about transferring a license or certification. North Carolina does not just accept your license from another state. You must either take one of the courses listed above, or if you believe that you are competent as a nurse aide in any state, you may take NC's state test.
How to Apply to Take the Exam
You may use this
form
to apply to the NNAAP test. Mail this completed application, including:
Exam fee by money order, certified check or company voucher
A notarized copy of your NC Nurse Aide 1 Training Program completion certificate
A copy of your listing on the NC state nurse aide registry
To: NACES Plus Foundation, Inc., 7600 Burnet Road, Suite 440 Austin, Texas 78757-1292
The NNAAP exam can be taken in North Carolina at one of these
locations
.
Test Content
The NNAAP test has two parts, a Skills Evaluation and a Written (or oral) part. Both parts must be passed to be listed on the North Carolina State Nurse Aide Registry. The written section is 70 questions in length, 60 are multiple choice and 10 are reading comprehension questions. Take two pencils with you. You will have two full hours to complete the exam. (The oral exam if given in place of the written exam is 160 questions in length.) The Skills Evaluation will be a 25 minute time period given to complete 5 randomly selected nurse aide skills. Content topics include:
Activities of Daily Living – Hygiene, Dressing and Grooming, Nutrition and Hydration, Elimination, Rest/Comfort/Sleep
Basic Nursing Skills - Infection Control, Safety/Emergency, Therapeutic/Technical Procedures, Data Collection and Reporting
Restorative Skills – Prevention, Self-care/Independence
Psychosocial Care Skills – Emotional and Mental Health Needs
Spiritual and Cultural Needs
Communication
Client Rights
Legal and Ethical Behavior
Member of the Health Care Team
See the
Candidate Handbook
for more details.
Certification Renewal and Continuing Education Requirements:
In the state of North Carolina, you will automatically receive a postcard in the mail reminding you to renew your CNA license. A license lasts two years from the time you acquire it and expires on your birth month. If your birth month falls a month or so ahead of the two year mark, your license still expires on your birthday. For more information on renewal requirements, email:
renewal@ncbon.com
.
Contact
NC Nurse Aide Registry (Nurse Aide 1)
NC Department of Health & Human Services
Division of Health Service Regulation
2709 Mail Service Center
Raleigh, NC 27699-2709
Phone: 919-855-3969
Fax: 919-733-9764
______________________________________________________

To prepare for your nursing assistant or nurse aide exam, use Tests.com's Certified Nursing Assistant Exam Practice Test Kit with 300 multiple choice questions, written by nursing experts and educators.
For more information on licensing and exam prep, go to Tests.com's
CNA Test Guide
.
And take Tests.com's free
CNA Practice Test
.
For nursing assistant and nurse aide exam preparation products and services, such as study guides, practice tests, flashcards and courses, go to Tests.com's
CNA
listings.
Quality starts with who wrote the material.
Our practice exam writer
s
:
Alene Burke, RN, MSN

Dorothy Belding, RN, MSH

Diane Hill, RN, BSN
National Nurse Aide Assessment Program (NNAAP) Exam Content Outline Review
I. Physical Care Skills
A. Daily Living Activities:
Hygiene
Dressing and Grooming
Nutrition and Hydration
Elimination
Rest/Sleep/Comfort
B. Skills of Basic Nursing:
Infection Control
Safety/Emergency
Therapeutic/Technical Procedures
Data Collection and Reporting
C. Restorative Skills:
Prevention
Self Care/Independence
II. Psychosocial Care Skills
A. Emotional and Mental Health Needs
B. Spiritual and Cultural Needs
III. Nurse Aide Roles
A. Communication
B. Client Rights
C. Legal and Ethical Behavior
D. Member of the Health Care Team