Need of a License:
A real estate salesperson must be licensed by the state of New York to represent clients in the sale or purchase of real estate that is located in New York.
Who Grants a License:
Licenses are granted by the
New York Secretary
of State ("NYSOS").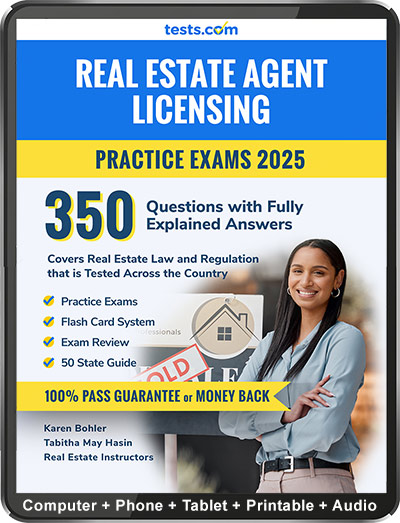 Qualifications to receive a License:
A candidate must complete 75 clock hours of
study
at a real estate school approved by the NYSOS (search schools
here
), pass a school-administered final exam, and pass a state exam. All candidates must submit a full set of fingerprints, prove
legal presence
and pass a background check. All candidates must be at least 18 years of age. For more information about qualifications, see the
Real Estate Salesperson FAQs
on the NYSOS website.
Applying for the Exams:
Candidates should create an account on
eAccessNY
, and schedule their real estate salesperson exam. For more information, see the page titled
Real Estate Exam Procedures
on the New York Department of Licensing Services website.
Test Content:
The New York state real estate licensing exam is based on the 75-hour
pre-licensing curriculum
. The number of questions on the exam varies. The exam is comprised of 75 multiple choice questions with four answer choices provided for each question. Test takers are allotted 90 minutes to complete the exam. A score of at least 70% is required to pass.
The primary subject areas of the exam are:
License Law and Regulations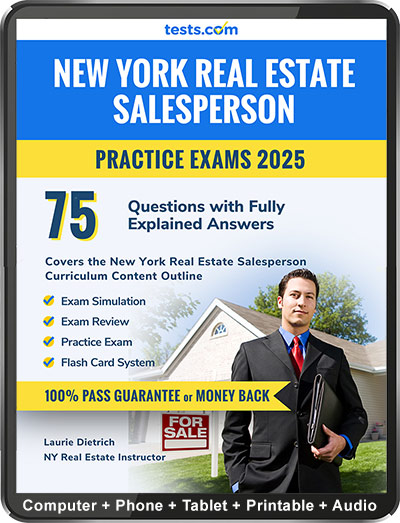 Law of Agency
Estates and Interests
Liens and Easements
Deeds
Title and Closing Costs
Sales Contracts
Leases
Contract Description
Real Estate Finance
Land Use Regulations
Construction and Environmental Issues
Valuation Process and Pricing Properties
Human Rights and Fair Housing
Municipal Agencies
Property Insurance
Taxes and Assessments
Condominiums and Cooperatives
Commercial and Investment Properties
Income Tax Issues in Real Estate Transactions
Mortgage Brokerage
Property Management
To take a free New York real estate salesperson practice exam to get an idea of what's on the actual test, click
here
.
How to Apply for the License:
Upon passing the exam, candidates must, within two years, apply for licensure online using the
eAccessNY
system, or using the
real estate application
.
Fees:
The licensing fee is listed
here
.
Who administers the test:
New York Department of Licensing Services, and the
NYS Board of Real Estate
.
License Renewal Requirements
– A New York real estate licensee must take 22.5 credit hours of continuing education (either online or in the classroom) from an
NYSOS-approved provider
every two years. Further information is provided on the New York Division of Licensing Services website,
here
.
Applicable Regulations:
Real estate licensees in New York are regulated under the
New York Real Estate License Laws
.
To prepare for your Real Estate Agent exam, use our 300 question practice test, with answers fully explained, by expert Karen Bohler.

For more information on real estate agent licensing and exam preparation, go to Tests.com's
Real Estate Agent Exam Guide and Real Estate Broker Exam Guide.
And take Tests.com's free Real Estate Agent Practice Test and Real Estate Broker Practice Test.
For real estate agent exam preparation products, such as study guides, flashcards and courses, go to Tests.com'sReal Estate Agent Exam and Real Estate Broker Exam listings.
DWS 0128