New Jersey Nursing Assistant / Nurse Aide Guide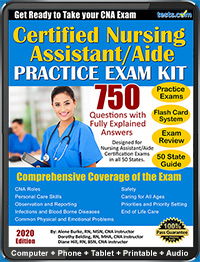 Is a License or Certification needed:
To get certified and work as a nursing assistant or nurse aide in a long term care or assisted living facility in New Jersey, you need to complete a nursing assistant program and pass the Nursing Assistant Training and Competency Evaluation Program (NATCEP) exam.
Who Grants Certification:
The
New Jersey Department of Health
oversees nurses aides in New Jersey.
PSI
handles the exam.
The Qualifications to become Certified:
Nursing aide candidates must complete a NATCEP program or a curriculum for New Jersey Personal Care Assistants (PCA). The NATCEP training program is 90 hours, consisting of 50 hours of classroom and 40 hours of clinical training in a New Jersey long term care facility. The PCA training is 85 hours, consisting of 69 classroom and 16 clinical hours. There are a few alternative routes to qualify for nursing assistant or nurse aide certification in New Jersey:
If you have completed an equivalent program in another state (reciprocity); and
If you have alternative training, such as nursing students who have completed a Fundamentals of Nursing course.
For more information on the routes to qualification, see
here
.
How to Apply for Certification and to take the Exam:
If you do not have an alternative route of qualification, you will have to enroll in an approved long term care training program at the facility where you want to work, a vocational training school or community college. See
here
for an approved list of programs.
To schedule a written or oral exam with PSI, go their site
online
.
Test Content
The test has two parts, a skills evaluation and a written section. Both parts must be passed to be listed on the New Jersey State Nurse Aide Registry. The written section is 60 questions in length. You will have 90 minutes to complete the exam and must receive a 75% to pass.
The written exam for nurse aides includes the following content topics:
Safety
Communication
Infection Control
Data Collection
Personal Care
Basic Nursing Skills
Mental Health
Role and Responsibility
Care Impaired
Disease Process
Resident Rights
Older Adult Growth & Development
The PCA exams covers the following topics:
Safety
Communication
Infection Control
Resident Rights
Data Collection
Basic Nursing Skills
Role / Responsibility
Disease Process
Mental Health
Personal Care
Care Impaired
Aging Process/Restorative Care
The skills evaluation consists of completing 4 selected nurse aide skills in addition to hand washing. You need a score of 80% without missing any of the key steps to pass the skills portion.
For more information on the content of the exam, see the
candidate bulletin
.
Contact
Certification Program
PO Box 358
Trenton, NJ 08625-0358
Nationwide Toll Free Number: 866-561-5914
Fax: 609-633-9087
Registry managed by New Jersey Nurse Aide Registry PSI
3525 Quakerbridge Road, Suite 1000
Hamilton Township, New Jersey 08619
Phone: 1-877-774-4243
______________________________________________________

To prepare for your nursing assistant or nurse aide exam, use Tests.com's Certified Nursing Assistant Exam Practice Test Kit with 300 multiple choice questions, written by nursing experts and educators.
For more information on licensing and exam prep, go to Tests.com's
CNA Test Guide
.
And take Tests.com's free
CNA Practice Test
.
For nursing assistant and nurse aide exam preparation products and services, such as study guides, practice tests, flashcards and courses, go to Tests.com's
CNA
listings.
Quality starts with who wrote the material.
Our practice exam writer
s
:
Alene Burke, RN, MSN

Dorothy Belding, RN, MSH

Diane Hill, RN, BSN
National Nurse Aide Assessment Program (NNAAP) Exam Content Outline Review
I. Physical Care Skills
A. Daily Living Activities:
Hygiene
Dressing and Grooming
Nutrition and Hydration
Elimination
Rest/Sleep/Comfort
B. Skills of Basic Nursing:
Infection Control
Safety/Emergency
Therapeutic/Technical Procedures
Data Collection and Reporting
C. Restorative Skills:
Prevention
Self Care/Independence
II. Psychosocial Care Skills
A. Emotional and Mental Health Needs
B. Spiritual and Cultural Needs
III. Nurse Aide Roles
A. Communication
B. Client Rights
C. Legal and Ethical Behavior
D. Member of the Health Care Team