New Hampshire Nursing Assistant / Nurse Aide Guide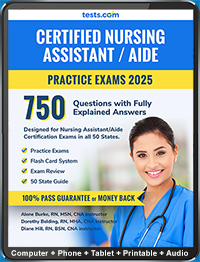 Is a License or Certification needed: To get licensed and work as a nursing assistant or nurse aide in New Hampshire, you need to complete a nursing assistant program and pass the National Nurse Aide Assessment Program (NNAAP) exam. You may be placed on the New Hampshire State Nurse Aide Registry just by successfully completing a state-approved training program and being found competent by the state. Nursing Assistant Licensure is a separate licensing number and status.
Who Grants Certification: The New Hampshire Board of Nursing grants certification to New Hampshire nursing assistants and nurse aides.
The Qualifications to become Certified: There are three ways to qualify to receive a nurse aide license in New Hampshire: Competency Evaluation, Comparable Education and Endorsement. Please see here for detailed information.
How to Apply for Certification: After taking a state-approved nursing assistant training course, you can apply for a license with these forms.
How to Apply to Take the Exam: Use the application to sign up to take the New Hampshire Certified Nurse Aide Exam. It is the same form as above because applying for license and tests are the same thing in New Hampshire.
Test Content: The NNAAP test has two parts, a Skills Evaluation and a Written (or oral) part. Both parts must be passed to be listed on the New Hampshire Nurse Aide Registry. The written section is 70 questions in length, 60 are multiple-choice and 10 are reading comprehension questions. Take two pencils with you. You will have two full hours to complete the exam. (The oral exam if given in place of the written exam is 160 questions in length.) The Skills Evaluation will be a 25 minute time period given to complete 5 randomly selected nurse aide skills.
Content topics include:
Activities of Daily Living – Hygiene, Dressing and Grooming, Nutrition and Hydration, Elimination, Rest/Comfort/Sleep
Basic Nursing Skills - Infection Control, Safety/Emergency, Therapeutic/Technical Procedures, Data Collection and Reporting
Restorative Skills – Prevention, Self-care/Independence
Psychosocial Care Skills – Emotional and Mental Health Needs
Spiritual and Cultural Needs
Communication
Client Rights
Legal and Ethical Behavior
Member of the Health Care Team
See the Candidate Handbook for more details.
Certification Renewal and Continuing Education Requirements: If your license is still active and you would like to renew it before it lapses, see the requirements to renew your license on the NHBON website.
Here are the requirements to renew a current license:
200 hours active nursing assistant practice in past two years under the supervision of an LPN, RN or APRN
12 CEU's per year, totaling 24 for the past two years;
or
A clinical and written competency test successfully completed within the past two years.
If your license has lapsed after its 2-year run, you will need to reactivate it by successfully completing a written and clinical skills test after calling or emailing the New Hampshire Board of Nursing for a reinstatement application.
Contact
NH Nurse Aide Registry
NH Board of Nursing
21 South Fruit Street, Suite 16
Concord, NH 03301-2431
Phone: 603-271-6282
Fax: 603-271-6605
---