Mississippi Nursing Assistant / Nurse Aide Guide
select c.adid, a.link, a.image, a.image2, a.imgalt from adcategories c, ad a where c.categoryid=258 and c.adid=a.adid order by c.rank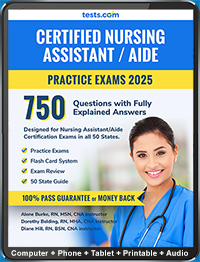 Is a License or Certification needed: To get licensed and work as a nursing assistant or nurse aide in Mississippi, you need to complete a nursing assistant program and pass the National Nurse Aide Assessment Program (NNAAP) exam.
Who Grants Certification: The Mississippi Department of Health grants certification to Mississippi nursing assistants and nurse aides.
The Qualifications to become Certified: In order to qualify to receive a nurse aide license in Mississippi, one need only to attend and successfully complete a state approved training course. Contact the Facilities Licensure Division for more information. Your training site can be found by requesting the current list of MSDH-approved nurse aide courses.
How to Apply for Certification and to take the Exam: You use the one form to apply for state certification and to take the exam. Mail it in along with your your certificate of training completion and exam fees to:
NACES Plus Foundation, Inc
8501 North Mopac Expressway, Suite 400
Austin, Texas 78759
Test Content: The NNAAP test has two parts, a Skills Evaluation and a Written (or oral) part. Both parts must be passed to be listed on the Mississippi Nurse Aide Registry. The written section is 70 questions in length, 60 are multiple choice and 10 are reading comprehension questions. Take two pencils with you. You will have two full hours to complete the exam. (The oral exam if given in place of the written exam is 160 questions in length.) The Skills Evaluation will be a 25 minute time period given to complete 5 randomly selected nurse aide skills. Content topics include:
Activities of Daily Living – Hygiene, Dressing and Grooming, Nutrition and Hydration, Elimination, Rest/Comfort/Sleep
Basic Nursing Skills - Infection Control, Safety/Emergency, Therapeutic/Technical Procedures, Data Collection and Reporting
Restorative Skills – Prevention, Self-care/Independence
Psychosocial Care Skills – Emotional and Mental Health Needs
Spiritual and Cultural Needs
Communication
Client Rights
Legal and Ethical Behavior
Member of the Health Care Team
See the Candidate Handbook for more details.
Certification Renewal and Continuing Education Requirements: In order to renew your Certified Nurse Aide license in the state of Mississippi, you will need to complete and mail this form and a renewal fee to:
Pearson VUE/MSNA Registry
PO Box 822749
Philadelphia, PA 19182-2749.
Continuing education requirements include working at least 8 hours within the two years that your certification is current. No other CEU's are necessary.
Contact
MS Nurse Aide Registry
MS State Department of Health
Bureau of Health Facilities
Licensure & Certification
P.O. Box 1700
Jackson, MS 39215
143B LeFleur's Square
Jackson, MS 39211
Phone: 601-364-1100
Fax: 601-364-5052
Registry Managed by Pearson VUE
PO Box 13785
Philadelphia, PA 19101-3785
Phone: 888-204-6213
---
select linkname, url, template, examid, viewid, pageid from categorylinks where catid=258 order by posn
PHP Error
Error number 8: Undefined variable: PageID
Line 3 of /home/testdeveloper/secure_html/Alp/views/templates/TemplateRightColumn.php
PHP Error
Error number 8: Undefined variable: PageID
Line 52 of /home/testdeveloper/secure_html/Alp/views/templates/TemplateRightColumn.php
PHP Error
Error number 8: Undefined variable: PageID
Line 61 of /home/testdeveloper/secure_html/Alp/views/templates/TemplateRightColumn.php

select name, value from publiccontent where page='home' or page='All Pages'