Maryland Nursing Assistant / Nurse Aide Guide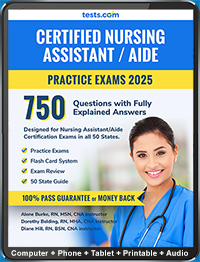 Is a License or Certification needed: To get licensed and work as a nursing assistant or nurse aide in Maryland, you need to complete a nursing assistant program. An exam is not required for initial licensure, though it is required to work as a geriatric nurse assistant.
Who Grants Certification: The Maryland Board of Nursing grants certification to Maryland nursing assistants and nurse aides.
The Qualifications to become Certified: In order to receive a new nurse aide certification in the state of Maryland, you must successfully pass a background check before completing a state-approved nurse aide program. You can find a list of these programs here.
How to Apply for Certification: Apply for your certification by faxing, emailing or sending a postal letter to the Maryland Board of Nursing. Your request must supply:
Your Name
Address
Phone Number
Whether this is an Endorsement, Renewal or Initial Certified Nurse Aide application
If using fax, fax this information to 410-764-8042.
Mail a request to:
Maryland Board of Nursing
Nursing Assistant Certification Program
4140 Patterson Avenue
Baltimore, MD 21215
Find full instructions for applying offline here. You may also apply online.
How to Apply to Take the Exam: The National Nurse Aide exam can be taken in Maryland at one of these locations. You may use this form to apply to take the test.
Test Content: The NNAAP test has two parts, a Skills Evaluation and a Written (or oral) part. Both parts must be passed to be listed on the Maryland Nurse Aide Registry. The written section is 70 questions in length, 60 are multiple-choice and 10 are reading comprehension questions. Take two pencils with you. You will have two full hours to complete the exam. (The oral exam if given in place of the written exam is 160 questions in length.) The Skills Evaluation will be a 25 minute time period given to complete 5 randomly selected nurse aide skills. Content topics include:
Activities of Daily Living – Hygiene, Dressing and Grooming, Nutrition and Hydration, Elimination, Rest/Comfort/Sleep
Basic Nursing Skills - Infection Control, Safety/Emergency, Therapeutic/Technical Procedures, Data Collection and Reporting
Restorative Skills – Prevention, Self-care/Independence
Psychosocial Care Skills – Emotional and Mental Health Needs
Spiritual and Cultural Needs
Communication
Client Rights
Legal and Ethical Behavior
Member of the Health Care Team
See the Candidate Handbook for more details.
Certification Renewal and Continuing Education Requirements: In order to renew your certified nurse aide license in Maryland, you will need to pay a fee for the two-year renewal. Your CNA certification will expire 2 years after your first license renewal on the 28th day of your birth month. If you were born in an odd year, your license will expire in an odd year and if you were born on an even year, your CNA license will expire on an even year.
Contact
MD Nurse Aide Registry
MD Board of Nursing
4140 Patterson Avenue
Baltimore, MD 21215-2254
Phone: 410-585-1990,
877-847-0626
Fax: 410-764-8042
Verification Line: 410-585-1994
---