Louisiana Plumbing Exams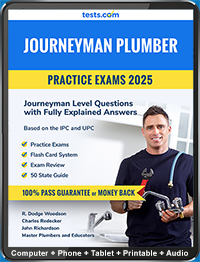 The Louisiana Plumbing License Exam covers many topics including: Vents & Venting; Administrative Procedures; Fixtures; Drainage Systems and more. Whether you live in New Orleans, Baton Rouge, Shreveport or another city or county, the resources below will help you get started:

Prepare to Pass the Actual Plumbing Exam:
600 Plumber Exam Questions, Flash Cards, and Testing Tips

Need of a License: Journeyman and master plumbers need a license to work in Louisiana.
Who Grants a License: The plumbing trade is regulated by the State Plumbing Board of Louisiana (SPBLA).
Procedures for Getting a License: A candidate must take an exam to obtain either a journeyman or master plumbing license.
Qualifications to take the Exam and receive a License: A candidate for journeyman plumber must have at least 5 years or 8,000 hours of full-time experience in the plumbing trade and have 3 currently licensed plumbers, who have known the candidate, sign the candidate's application. A candidate for master plumber must hold a journeyman plumbing license or a current restricted master plumbing license or a Louisiana Professional Engineers license with 5 years experience in the plumbing trade.
How to Apply for the Test: Candidates for the plumbing exam will find all applicable forms at the State Plumbing Board of Louisiana Forms page.
Return the application and other documents to:
State Plumbing Board of Louisiana
12497 Airline Highway
Baton Rouge, LA 70817
For more information call (225) 756-3434.
Test Content: The journeyman and master exams have the following content and specifications:
Journeyman - 80 questions, 3 hours, open book with Louisiana Plumbing Code
Master -
Part I - 80 multiple choice questions on General Plumbing Knowledge - 3 hours
Part II - 25 multiple choice questions on Practical Plumbing Knowledge - 2 hours
Part III - 40 multiple choice questions on Business Law and Knowledge - 2 hours
The Master Plumber exams are open book with Sanitary Code, LA plumbing code and Master Plumber Guide to Business, Law and Project Management - references can be highlighted and tagged only.
Fees: There are fees to take the test.
Who Administers the test: SPBLA and the National Inspection, Testing and Certification Corporation
License Renewal: Licenses must be renewed every year. As a condition of license renewal, plumbers must fulfill the following board approved continuing education requirement each year:
Journeyman Plumbers – 4 hours
Master Plumbers – 6 hours
Applicable Code: Louisiana follows the Louisiana State Plumbing Code.
______________________________________________________
For more information on licensing and exam preparation, go to Tests.com's
Journeyman Plumbing Test Guide
And take Tests.com's Plumbing Practice Test.

Prepare to Pass the Actual Plumbing Exam:
600 Plumber Exam Questions, Flash Cards, and Testing Tips