Kansas Nursing Assistant / Nurse Aide Guide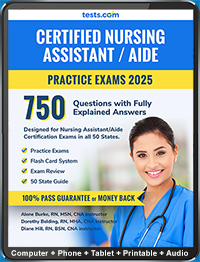 Is a License or Certification needed: You need to pass a state-certified nursing assistant program and the state exam in order to be certified. This must be done in order to work as a nursing assistant in the state of Kansas and be listed on the Kansas Nurse Aide Registry.
Who Grants Certification: The Kansas Department For Aging and Disability Services, Survey, Certification and Credentialing Commission trains nurse aides in order to get them state-certified. Once certified, the KDAD also ensures that nurse aides are listed on the Kansas Nurse Aide Registry.
The Qualifications to become Certified: There is more than one route to qualify to register as a nurses aide in the state of Kansas. These include:
You have successfully completed a Kansas state-approved training program consisting of 100 hours of training.
You have passed the Kansas nurse aide competency evaluation including both written and skill portions.
You are listed in good standing as a CNA on the Kansas State Nurse Aide Registry.
How to Apply for Certification and to take the Exam: In order to apply to take your state nurse aide exam, you must have received proof of completion from a Kansas state-approved school. The school will provide you with your original nurse aide state exam application.
For any further information, contact the Kansas Health Occupations Credentialing office at:
Health Occupations Credentialing
612 S Kansas Ave.
Topeka, KS 66603-3404
785-296-1240
Test Content: Both written and skills parts must be passed to be listed on the Kansas Nurses Aide Registry. The written section is 100 questions in length. You will have 2 hours to complete the exam. A minimum score of 75% is required to pass both test portions.
The written exam questions are based on the Kansas state-approved test plan. Content topics include:
Activities of Daily Living/Basic Nursing Skills
Restorative Services
Common Diseases and Disorder
Infection Control
Mental and Social Needs
Cognitive Impairment
Resident's Rights
Safety and Emergencies
Communication and Interpersonal Skills
Role and Responsibilities of the CNA
The skills evaluation will be set within a specific amount of time to finish a given number of skills, usually around 30 minutes to finish 5 skills. You will need to practice these skills. They will not need to be absolutely perfect, but you will need to be deemed competent in these skills. The nurse aide skills usually include things like:
Infection Control
Communication
Rights and preferences
Safety, comfort and needs
For further answers to your questions about the written or skills portions of the exam, contact the Kansas Health Occupations Credentialing office as discussed above or see the curriculum guidelines.
Certification Renewal and Continuing Education Requirements: According to the law in Kansas, to renew your CNA registration, it is required that you have worked 8 hours at your place of employment in the paid role of a nurse aide during the past 24 months. This must be paid employment, not volunteer work, and in a nursing environment such as a nursing home, home health setting or a hospital.
In Kansas, if you have not worked 8 hours in 24 months, your nurse aide registration is considered "Inactive". In order to make it active again and be eligible for working as a nurse aide, you must take a two-day refresher course at a local community college or perform a task checklist correctly in front of an RN in a hospital or long term care facility. This checklist can be requested by an RN from the Health Occupations and Credentialing office. The RN will then return the form to the office marked as satisfactorily completed and the nurse aide's name will be returned to the Kansas State Nurse Aide Registry. This means that the nurses aide's registration has been renewed, they are now "Active" again and eligible for work.
Contact
KS Nurse Aide Registry
KS Department of Health & Environment
Health Occupations Credentialing
1000 SW Jackson Street, Suite 200
Topeka, KS 66612-1365
Phone: 785-296-1240
KNAR Phone: 785-296-6877
Fax: 785-296-3075
---