Illinois Plumbing Exams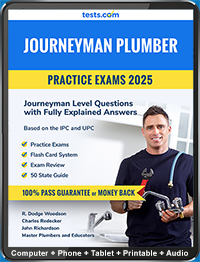 Any Plumbing License Exam in Illinois will cover many topics including: Vents & Venting; Administrative Procedures; Fixtures; Drainage Systems and more. Whether you live in Chicago, Aurora, Rockford or another city or county, the resources below will help you get started:

Prepare to Pass the Actual Plumbing Exam:
600 Plumber Exam Questions, Flash Cards, and Testing Tips
Need of a License: Plumbers and plumbing contractors need a license to work in Illinois.
Who Grants a License: Plumbing licenses are regulated by the Illinois Department of Public Health. The City of Chicago also issues plumbing licenses for its jurisdiction.
Procedures for Getting a License: A candidate must take an exam to obtain a plumbing license at the state level or in Chicago.
Qualifications to take the Exam and receive a License: A candidate for a plumbing license must have been employed as an apprentice plumber for at least 4 years, completed a trade school program in plumbing and completed at least two years of high school.
Plumbing contractors must register with the state, pay a fee and obtain a minimum of general liability, property damage, bodily injury and workers compensation insurance.
How to Apply for the Test: The application for a plumbing license at the state level can be found online at the Plumbing Program website. Mail the completed application to:
Illinois Department of Public Health
Office of Health Protection
Plumbing Program
525 W. Jefferson Street, 3rd Floor
Springfield, IL 62761
(217) 524-0791
In Chicago, the application can be found at the trade licensing web page. Mail the completed application to:
City of Chicago
Journeyman Plumber License
PO Box 388249
Chicago, IL 60638-8249
Test Content: The Chicago plumbing exam is 3 hours in duration. A score of 70 is needed to pass. No calculators or reference materials can be brought into the testing site. Calculators will be provided. The test has the following content:
Plumbing Practice, Theory and Safety
Code Requirements for Plumbers and Contractors
Plumbing Systems
Rehabilitated Requirements
Drawings, Charts and Plans
Cutting and Assembling Plumbing System Components
Troubleshoot, Maintenance and Repair
Fees: There are fees to take the test.
License renewal: Licenses must be renewed each year. There is a continuing education requirement.
Applicable Code: Illinois has its own plumbing code. Chicago also has its own plumbing code.
______________________________________________________
For more information on licensing and exam preparation, go to Tests.com's
Journeyman Plumbing Test Guide
And take Tests.com's Plumbing Practice Test.

Prepare to Pass the Actual Plumbing Exam:
600 Plumber Exam Questions, Flash Cards, and Testing Tips