Illinois Nursing Assistant / Nurse Aide Guide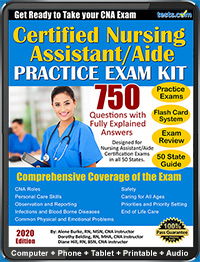 Is a License or Certification needed:
You need to pass a state certified nursing assistant program and the state exam in order to be certified. This must be done in order to work as a nursing assistant in the state of Illinois and be listed on the Illinois State Nurse Aide Registry.
Who Grants Certification:
Southern Illinois University at Carbondale (SIU-C) administers the written portion of the state competency exam at various sites throughout Illinois. They then list the successful new Certified Nurse Aide on the Illinois Healthcare Workers Registry, which is run by the
Illinois Department of Public Health
.
The Qualifications to become Certified:
There is more than one route to qualification for receiving a Nurse Aide License in the state of Illinois. These include:
You have successfully completed an Illinois state approved training program.
You were previously certified in the state of Illinois, your certification lapsed and you are retaking the test.
You are an RN or LPN student who has completed the Fundamentals of Nursing or Nursing 101.
You were trained or certified in another state.
You have military nurse aide experience.
How to Apply for Certification and to take the Exam:
Apply to take the exam with the Illinois State Certified Nurse Aide Exam Application that can be found
here
or contact:
Nurse Aide Testing
Southern Illinois University- Carbondale
1840 Innovation Drive
Carbondale, IL 62903
Phone: 1-877-262-9259
Email: wednat@siu.edu
RNs or LPNs can apply
here
.
Nurse aides with military experience can apply
here
.
Test Content
The Nurse Aide Competency exam must be passed to be listed on the Illinois State Nurse Aide Registry. The written section is 85 multiple choice questions in length. You will have 90 minutes to complete the exam. The questions are based on the Illinois state approved test plan. Content topics include:
Communicating Information
Performing Basic Nursing Skills
Performing Personal Care Skills
Performing Basic Restorative Skills
Providing Mental Health and Social Service Needs
Providing Residents' Rights
Certification Renewal and Continuing Education Requirements:
According to Illinois law, to renew your license, it is required that you have worked 8 hours at your place of employment in the paid role of a nurse aide during the past 24 months. This must be paid employment, not volunteer work, and in a nursing environment such as a nursing home, home health setting or a hospital.
You can renew your license with the Illinois Department of Public Health. Call 217-785-5133 for re-certification information.
Contact
IL Nurse Aide Registry
IL Department of Public Health
Health Care Worker Registry
525 W. Jefferson Street
Fourth Floor
Springfield, IL 62761
Phone: 217-785-5133
Fax: 217-524-0137
______________________________________________________

To prepare for your nursing assistant or nurse aide exam, use Tests.com's Certified Nursing Assistant Exam Practice Test Kit with 300 multiple choice questions, written by nursing experts and educators.
For more information on licensing and exam prep, go to Tests.com's
CNA Test Guide
.
And take Tests.com's free
CNA Practice Test
.
For nursing assistant and nurse aide exam preparation products and services, such as study guides, practice tests, flashcards and courses, go to Tests.com's
CNA
listings.
Quality starts with who wrote the material.
Our practice exam writer
s
:
Alene Burke, RN, MSN

Dorothy Belding, RN, MSH

Diane Hill, RN, BSN
National Nurse Aide Assessment Program (NNAAP) Exam Content Outline Review
I. Physical Care Skills
A. Daily Living Activities:
Hygiene
Dressing and Grooming
Nutrition and Hydration
Elimination
Rest/Sleep/Comfort
B. Skills of Basic Nursing:
Infection Control
Safety/Emergency
Therapeutic/Technical Procedures
Data Collection and Reporting
C. Restorative Skills:
Prevention
Self Care/Independence
II. Psychosocial Care Skills
A. Emotional and Mental Health Needs
B. Spiritual and Cultural Needs
III. Nurse Aide Roles
A. Communication
B. Client Rights
C. Legal and Ethical Behavior
D. Member of the Health Care Team