To prepare for the Florida Real Estate Exam, check out our Complete 100 Question Florida Real Estate Sales Associate Practice Exam with the same number of questions as the actual exam plus 300 bonus core real estate questions.
Need of a License: A real estate salesperson must be licensed by the state of Florida to represent clients in the sale or purchase of real estate that is located in Florida.
Who Grants a License: Licenses are granted by the Florida Real Estate Commission ("FREC").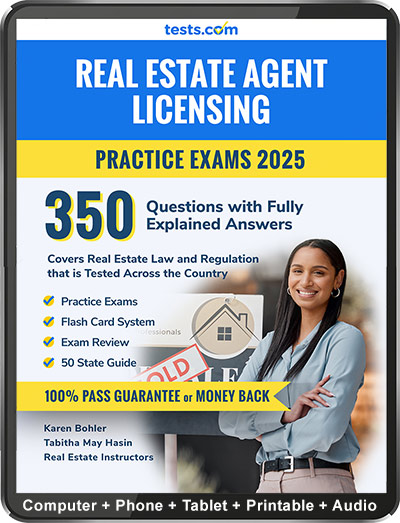 Qualifications to receive a License: A candidate must complete 63 hours of study at a FREC-approved real estate school (search schools here), pass a school-administered final exam, and pass a state exam within two years of completing the required course. All candidates must be at least 18 years of age, have proof of high school graduation (or GED), be fingerprinted, and pass a background check. For more information about qualifications, see Licensure Information on the FREC website. If a candidate is licensed in another state, the candidate might be eligible for a license by mutual recognition, which entitles the candidate to a waiver of a portion of the required education and/or exam.
Applying for the Exams: Candidates should schedule the exam through the Pearson VUE website scheduling page. For more information, see the Florida Real Estate Candidate Information Handbook.
Test Content: The Florida state real estate licensing exam is includes questions about general real estate concepts as well as state-specific real estate concepts. It is comprised of 100 multiple choice questions with four answer choices provided for each question. Test takers are allotted 210 minutes to complete the exam. The exam is graded on the basis of 100 points for a perfect examination. A score of at least 75 points is required to pass. The exam is presented in a computer-based format, but accommodations for paper-based tests and/or oral testing can be provided with special arrangements. The exam tests the candidate's knowledge of real estate concepts in the following subject areas:
Administrative Matters and Course Overview; the Real Estate Business
Real Estate License Law and Qualifications for Licensure
Real Estate License Law and Commission Rules
Authorized Relationships, Duties and Disclosure
Real Estate Brokerage Activities: Guides for Salespersons
Violations of License Law, Penalties and Procedures
Federal And State Laws Pertaining To Real Estate
Property Rights: Estates and Tenancies; Condominiums, Cooperatives, and Time-Sharing
Title, Deeds and Ownership Restrictions
Legal Descriptions
Real Estate Contracts
Real Estate Finance
Types Of Mortgages And Sources Of Financing
Real Estate Related Computations and Closing Of Transactions
Real Estate Appraisal
Introduction to Residential Product Knowledge
Real Estate Investments and Business Opportunity Brokerage
Taxes Affecting Real Estate
The Real Estate Market
Planning and Zoning
To take a free Florida real estate salesperson practice exam to get an idea of what's on the actual exam, click here.
How to Apply for the License: The license application is issued by the testing company upon passing both portions of the licensing exam. Candidates must provide FREC with the following documents: (1) completed application and application fee; (2) original Florida state real estate licensing exam score report(s); (4) certificate issued by a FREC-approved school for completion of the 63-hour salesperson pre-licensure curriculum; (5) electronic fingerprints, administered by the testing company (Pearson VUE). All of the required documents must be submitted to the FREC offices in Orlando. For further information or additional instructions for specific license applicants, contact the FREC customer contact center at 850.487.1395 or use the online contact form.
Fees: FREC charges a license application fee. Fees are subject to change, but are specified on the licensing application.
Who administers the test: FREC and Pearson VUE.
Post Licensing Education Requirements: All new Florida real estate licensees must take 45 hours of post licensing education at a FREC-approved school prior to the expiration of the initial license. Further information is provided on the FREC website, here.
License Renewal Requirements: A Florida real estate licensee must take 14 credit hours of continuing education (either online or in the classroom) from a FREC-approved provider every two years. A list of available continuing education courses is provided on the FREC website, here.
Applicable Regulations: Real estate licensees in Florida are regulated under Title 32, Chapter 475, Real Estate, and the Florida Administrative Code, Division 61J2.
---
DWS 0128