Florida Plumbing Exams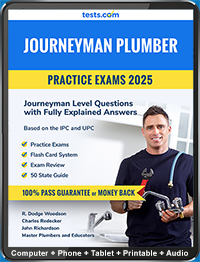 The Florida Plumbing License Exam covers many topics including: Vents & Venting; Administrative Procedures; Fixtures; Drainage Systems and more. Whether you live in Miami, Tampa, Jacksonville or another city or county, the resources below will help you get started:

Prepare to Pass the Actual Plumbing Exam:
600 Plumber Exam Questions, Flash Cards, and Testing Tips
Need of a License: A plumber needs a license to work as a contractor in Florida. A "plumbing contractor" is a contractor whose contracting business consists of the execution of contracts requiring the experience, financial means, knowledge, and skill to install, maintain, repair, alter, extend, or, when not prohibited by law, design plumbing. Title XXXII Florida Statutes Chapter 489(m).
Who Grants a License: The plumbing trade is regulated by the Florida Department of Business and Professional Regulation.
Procedures for Getting a License: A candidate for a plumbing license must take and pass an exam covering business , finance and trade knowledge. The test is an open book exam. Detailed information about the test is provided in A Candidate Information Booklet for Construction License Examination.
Who Administers the Test: Professional Testing Inc. and Pearson Vue
How to Apply for the Test: You can register to take the exam online at Pearson Vue or by calling 1-888-204-6230. It is recommended that you register at least 2 business days before the exam, as exam reservations are taken on a first-come-first served basis.
Fees: There are fees to take the test.
Qualifications to take the Exam and receive a License: A candidate must meet experience and education requirements to take the test. Candidates must also demonstrate financial responsibility by providing a credit report and obtain general liability and property damage insurance. Fingerprinting is also required.
License Renewal: Licenses must be renewed every two years. There is a continuing education requirement. Certified and registered plumbing contractors must complete at least 14 hours of board approved continuing education as a condition to renewal.
Applicable Code: Florida has adopted the International Plumbing Code developed by the International Code Council.
______________________________________________________
For more information on licensing and exam preparation, go to Tests.com's
Journeyman Plumbing Test Guide
And take Tests.com's Plumbing Practice Test.

Prepare to Pass the Actual Plumbing Exam:
600 Plumber Exam Questions, Flash Cards, and Testing Tips