Florida Massage Therapist License Exam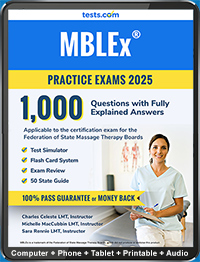 To get licensed in Florida, massage therapists are required to take a massage exam that covers such subjects as anatomy, physiology, pathology and kinesiology. Whether you live in Miami, Jacksonville, Tampa or another city or county, the resources below will help you get started on the path to receive your massage license.
Need of a Massage License: A massage therapist needs a license to practice massage therapy in Florida.
Who Grants a License: Licenses are granted by the Florida Board of Massage Therapy.
Qualifications to receive a License: A candidate needs to complete a course of study at an approved massage therapist school or apprenticeship program.
A candidate needs to pass the Massage and Bodywork Licensing Examination (MBLEx).
Applying for the Massage Exam: Candidates can apply online to take the MBLEx. More information can be found on the MBLEx in a Candidate Handbook.
Test Content: The MBLEx exam consists of 100 multiple-choice questions with four choices provided for each question. Test takers have 110 minutes to complete the computer-based exam.
The exam is divided into eight content areas:
- Anatomy & Physiology
- Kinesiology
- Pathology, Contraindications, Areas of Caution, Special Populations
- Benefits and Physiological Effects of Techniques that Manipulate Soft Tissue
- Client Assessment, Reassessment, & Treatment Planning
- Overview of Massage & Bodywork History/Culture/Modalities
- Ethics, Boundaries, Laws, Regulations
- Guidelines for Professional Practice
How to Apply for the License: Candidates can apply online at Florida Massage Therapist Application.
The application, school transcripts and tests results can also be mailed to the Board:
Florida Board of Massage Therapy
P.O. Box 6330
Tallahassee, FL 32314-6330
Phone: (850) 488-0595
Official school transcripts and exam results must be sent directly from those organizations to the Board. Candidates must also complete a 2 hour medical error prevention course and submit proof of completion to the Board.
Fees: There are fees to apply to become a licensed massage therapist.
Who administers the test: The MBLEx is administered by the Federation of State Massage Therapy Boards (FSMTB) and Pearson Vue.
License Renewal Requirements: A massage therapist must renew their license every 2 years and complete at least 24 hours of continuing education every 2 years.
Applicable Regulations: Massage therapists in Florida are regulated by Title XXXII, Chapter 480, Massage Practice; Chapter 456, Health Professions and Occupations; and Administrative Rules, Chapter 64B7.
---