Connecticut Plumbing Exam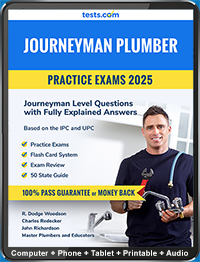 The Connecticut Plumbing License Exam covers many topics including: Vents & Venting; Administrative Procedures; Fixtures; Drainage Systems and more. Whether you live in Bridgeport, Hartford, New Haven or another city or county area, the resources below will help you get started:
Prepare to Pass the Actual Plumbing Exam:
600 Plumber Exam Questions, Flash Cards, and Testing Tips
Need of a License: Plumbing contractors (P1) and journeyperson plumbers (P2) need a license to work in Connecticut.
Who Grants a License: Plumbing licenses are issued by the Connecticut Department of Consumer Protection.
Procedures for Getting a License: Candidates must take an exam to obtain a license. Information about the exam can be found in a Candidate Information Bulletin.
Qualifications to take the Exam and receive a License: A candidate for the unlimited plumbing contractor license (P1) must show 2 years of experience as a licensed journeyperson plumber or equivalent experience and training. A candidate for the journeyperson plumbing license (P2) must have completed a registered apprenticeship program or equivalent experience and training.
Test Content: The exam for a plumbing contractor license (P1) consists of two exams, a business and law exam and a technical exam. The business and law exam has 50 questions and the test candidate is given 2 hours to complete the exam. The technical exam has 80 questions and the duration of the test is 3 hours.
The exam for journeyperson plumbers (P2) consists of only a technical exam, has 70 questions and the test lasts 150 minutes.
A score of 70% is need to pass all sections on the P1 and P2 exams.
How to Apply for the Test: You can access the application online at PSI Exams.
Mail the completed application to:
PSI Licensure: Certification
ATTN: Examination Registration CT CO
3210 E. Tropicana
Las Vega, NV 89121
Who Administers the Exam: PSI
Fees: There are fees to take the test.
License Renewal: Licenses must be renewed every year. As a condition of license renewal, plumbers must fulfill the following continuing education requirement each year:
Plumbing unlimited contractors – 9 hours
Plumbing limited contractors and unlimited journeyman – 6 hours
Plumbing limited journeyman – 3 hours
Applicable Code: Connecticut follows the International Plumbing Code established by the International Code Council.
______________________________________________________
For more information on licensing and exam preparation, go to Tests.com's
Journeyman Plumbing Test Guide
And take Tests.com's Plumbing Practice Test.

Prepare to Pass the Actual Plumbing Exam:
600 Plumber Exam Questions, Flash Cards, and Testing Tips