Colorado Plumbing Exam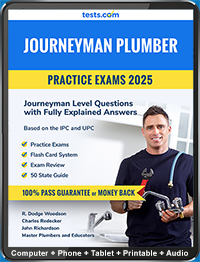 The Colorado Plumbing License Exam covers many topics including: Vents & Venting; Administrative Procedures; Fixtures; Drainage Systems and more. Whether you live in Denver, Boulder, Colorado Springs or another city or county, the resources below will help you get started:

Prepare to Pass the Actual Plumbing Exam:
600 Plumber Exam Questions, Flash Cards, and Testing Tips
Need of a License: Residential, journeyman and master plumbers need a license to work in Colorado.
Who Grants a License: Plumbing licenses are issued by the Colorado State Plumbing Board (CSPB).
Procedures for Getting a License: Candidates must take an exam to obtain a license unless you have been licensed in another state and meet Colorado's reciprocity requirements.
Qualifications to take the Exam and receive a License: A candidate for the residential plumbing license must show 2 years or 3,400 hours of practical experience. A candidate for the journeyman plumbing license must have 4 years or 6,800 hours of practical experience. A candidate for a master plumbing license is required to have had 5 full-time years of practical experience.
Test Content: The exams have a multiple choice format . A list of subjects the test covers is given at CSPB. Candidates for the residential and journeyman plumber licenses need a 70% score to pass the exam. Master plumbers need a score of 75% to pass.
How to Apply for the Test: You can access the journeyman plumber application online at CSPB.
Mail the completed application to:
State Plumbing Board
1560 Broadway, Suite 1350
Denver, CO 80202
Fees: There are fees to take the test.
License Renewal: Licenses must be renewed by August 31st of odd numbered years. There is no continuing education requirement.
Applicable Code: Colorado follows the International Plumbing Code established by the International Code Council.
______________________________________________________
For more information on licensing and exam preparation, go to Tests.com's
Journeyman Plumbing Test Guide
And take Tests.com's Plumbing Practice Test.

Prepare to Pass the Actual Plumbing Exam:
600 Plumber Exam Questions, Flash Cards, and Testing Tips