Colorado Massage Therapist License Exam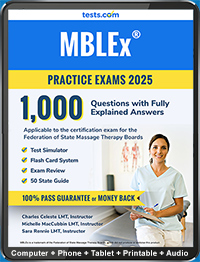 To get licensed in Colorado, massage therapists are required to take a massage exam that covers such subjects as anatomy, physiology, pathology and kinesiology. Whether you live in Boulder, Denver, Colorado Springs or another city or county, the resources below will help you get started on the path to receive your massage license.
Need of a Massage License: A massage therapist needs to be licensed to practice massage therapy in Colorado.
Who Grants a License: Licenses are granted by the Colorado Office of Massage Therapy Licensure.
Qualifications to receive a License: A candidate needs to complete a minimum of 500 hours of course and clinical work from an approved massage school. The candidate must also pass the Massage and Bodywork Licensing Examination (MBLEx).
For more information on qualifications, see Massage Therapist Checklist.
Applying for the Massage Exam: Candidates can apply online to take the MBLEx. More information can be found on the MBLEx in a Candidate Handbook.
Test Content: The MBLEx exam consists of 100 multiple-choice questions with four choices provided for each question. Test takers have 110 minutes to complete the computer-based exam.
The exam is divided into eight content areas:
- Anatomy & Physiology
- Kinesiology
- Pathology, Contraindications, Areas of Caution, Special Populations
- Benefits and Physiological Effects of Techniques that Manipulate Soft Tissue
- Client Assessment, Reassessment, & Treatment Planning
- Overview of Massage & Bodywork History/Culture/Modalities
- Ethics, Boundaries, Laws, Regulations
- Guidelines for Professional Practice
How to Apply for the License: Candidates must apply online through the Colorado Office of Massage Therapy along with fingerprint and background check information.
Phone: (303) 894-7800
Fax: (303) 894-7693
Fees: There are fees to apply to become a licensed massage therapist.
Who administers the test: The MBLEx is administered by the Federation of State Massage Therapy Boards (FSMTB) and Pearson Vue.
License Renewal Requirements: A massage therapist must renew their license every 2 years and there is no continuing education requirement.
Insurance Requirement: Massage therapists must carry professional liability insurance in an amount not less than $50,000 per claim with an annual aggregate liability limit of $300,000 for all claims.
Applicable Regulations: Massage therapists in Colorado are regulated by the Colorado Revised Statues 2019, TITLE 12 Professions and Occupations, Article 235 Massage Therapists.
---