California Life and Health Insurance Agent Exam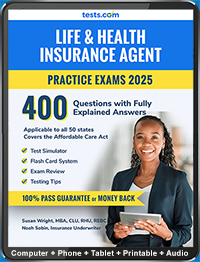 Need of a License:
An individual who is acting as an agent or producer needs a license to sell life and health insurance in California.
Who Grants a License:
Licenses are granted by the
California Department of Insurance
.
Qualifications to receive a License:
Applicants must complete
prelicensing education requirements
, pass the appropriate examination, and then submit the license application.
Basic eligibility requirements
include:
Must be 18 years old
Must undergo background screening
Requires a minimum of 20 hours of approved prelicensing study
Requires 12 hours of approved prelicensing study on code and ethics
Fingerprinting is required
Applying for the Agent Exam:
PSI Services handles the scheduling of examinations for individuals licensed by the California Department of Insurance's (CDI) Producer Licensing Bureau. Instructions for scheduling examinations are posted on
PSI's Examination Scheduling Service
. Individuals may schedule their examinations with PSI online, by telephone (877) 392-6422, by fax (702) 932-2666 (complete the California Examination Registration Form found in the Candidate Information Bulletin), or by mailing the form and appropriate fee to:
PSI Services LLC
ATTN: Examination Registration CA INS
3210 E Tropicana
Las Vegas, NV 89121
Test Information:
The Life, Accident and Health Agent exam consists of 150 questions, with an allotted completion time of three hours. The
California Department of Insurance Candidate Information Bulletin
contains specific testing information. Candidates who pass will immediately receive a successful notification and performance summary on a CDI examination results letter. Those who do not will immediately receive an unsuccessful CDI examination results letter along with a diagnostic report indicating your strengths and weaknesses by examination portion.
How to Apply for the License:
The California Department of Insurance (CDI) requires California resident applicants to first pass the qualifying license examination prior to submitting their
license application
. CDI's online application service
Fast Licensing Application Service (FLASH)
requires applicants to enter a unique 12-digit identification number which is located on the upper left corner of the passed examination letter. FLASH only allows the application to be submitted if the applicant enters the correct identification number and has passed the examination, not just scheduled the examination. Consequently, for an application to be accepted, the applicant's identification number entered must be identical to the identification number that is stated on the passed examination letter.
License Renewal Requirements:
Individual Producer licenses must be renewed every two years and there is a
continuing education requirement.
Applicable Regulations:
Life and health insurance agents in California are regulated by the
California Department of Insurance
.
_________________________________________
For more information on life and health insurance agent licensing and exam preparation, go to Tests.com's
Life and Health Insurance Exam Guide
.
And take Tests.com's free
Life and Health Insurance Agent Practice Test
.
For life and health insurance agent exam preparation products, such as study guides, flashcards and courses, go to Tests.com's
Life and Health Insurance Sales Exam
listings.
Quality starts with who wrote the material.
Our practice exam writer
s
:
Susan Wright,CLU, ChFC, RHU, REBC, CSA, CLTC, CCFC, CSS
Our practice exam covers life and health insurance exam subject areas that are common across the country and is not specific to any one state but rather applicable to all states. It covers all of the following areas which are typically covered in your actual state Life & Health Insurance examination:
General insurance

Insurance regulation

Life insurance basics

Life insurance policies

Life insurance policy provisions, options, and riders

Annuities

Federal tax considerations for life insurance and annuities

Qualified plans

Health Insurance basics

Individual health insurance policy general provisions

Disability income and related insurance

Medical plans

Health maintenance organizations

Group health insurance

Dental insurance

Insurance for special needs individuals and senior citizens

Federal tax considerations for health insurance