Need of a License: A real estate salesperson must be licensed by the state of Alabama to represent clients in the sale or purchase of real estate that is located in Alabama.
Who Grants a License: Licenses are granted by the Alabama Real Estate Commission ("AREC").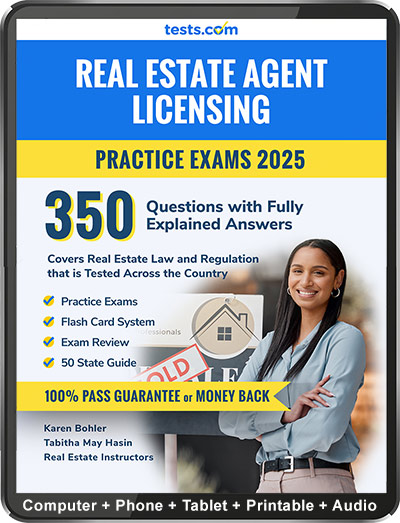 Qualifications to receive a License: A candidate must complete an AREC-approved 60 clock-hour pre-licensure course from an AREC-approved real estate school (search schools here), pass a school-administered final exam, and pass a state exam. Candidates must pass the state exam within 12 months of completing the pre-licensure course. All candidates must submit a full set of fingerprints, prove legal presence, prove graduation from high school (or present GED), and pass a background check. All candidates must be at least 19 years of age. For more information about qualifications, see Become a Licensed Real Estate Professional.
Applying for the Exams: Applicants to take the exam must complete and pass the 60 clock-hour pre-licensure course (and present proof of completion) before they are permitted to register for the state exam. Candidates should apply to take the state exam through the Applied Measurement Professionals website scheduling page. For more information, see the Alabama Real Estate Examination Program Candidate Handbook.
Test Content: The Alabama state real estate licensing exam is comprised of two portions, the national portion and the state-specific portion. The questions on the two portions are intermixed and do not appear in separate sections. The test is comprised of multiple choice questions with four answer choices provided for each question. The total time allowed for both tests is 3 ½ hours. A scaled score of at least 70 is required to pass. The exam is presented in a computer-based format, but accommodations for paper-based tests and/or oral testing can be provided with special arrangements.
The national test consists of 100 questions and tests the candidate's knowledge of general real estate concepts, including the following subject areas:
Agency Relationships and Contracts
Real Property Ownership/Interest
Finance
Real Property
Marketing Regulations (purchase and rental)
Property Management
Real Estate Calculations
The state-specific test consists of 40 questions and tests the candidate's knowledge of the state-specific concepts, including the following subject areas:
Purpose of License Law/Rules and
Regulations and Role of Commission
Licensing Requirements
License Status
Broker Licenses, Company Licenses and Place of Business
Recovery Fund
Disciplinary Actions and Process
Estimated Closing Statement
Trust Funds
RECAD (Real Estate Consumers Agency and Disclosure Act)
Violations which may result in disciplinary
How to Apply for the License: The license application is issued by the testing company upon passing the licensing exam. Candidates must provide AREC with the following documents: (1) completed application and application fee; (2) original Alabama state real estate licensing exam score report(s); (3) proof of legal presence in the U.S.; (4) certificate issued by an AREC-approved school for completion of the 60-hour salesperson pre-licensure curriculum; (5) a Criminal History Information Release form; (6) if applicable an explanation of any questions on the license application to which the applicant specified a "yes" answer. All of the required documents must be submitted to the AREC offices in Montgomery within 90 days of passing the state licensing exam. Additional instructions for specific license applicants are on AREC webpage titled "Become a Licensed Real Estate Professional" or contact AREC by telephone at 334-242-5544.
Fees: AREC charges a license application fee. The fees are subject to change, but current fees are listedon the sample Alabama real estate salesperson licensing application.
Who administers the test: AREC and Applied Measurement Professionals (AMP).
License Renewal Requirements: An Alabama real estate licensee must take 15 credit hours of continuing education (either online or in the classroom) from an AREC-approved provider every two years. Further information is provided on AREC.
Applicable Regulations: Real estate licensees in Alabama are regulated under Alabama Code, Title 34, Chapter 27, Real Estate Brokers, and the AREC Administrative Code, Chapter 790.
---
DWS 0128