Alabama Plumbing Exam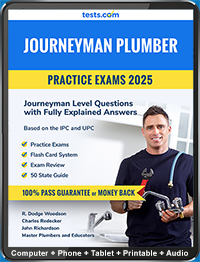 The Alabama Plumbing License Exam covers many topics including: Vents & Venting; Administrative Procedures; Fixtures; Drainage Systems and more. Whether you live in Mobile, Montgomery, Birmingham or another city or county, the resources below will help you get started:
Need of a License: Journeyman and master plumbers need a license to work in Alabama.
Who Grants a License: The plumbing trade is regulated by the Alabama Plumbers and Gas Fitters Examining Board.
Procedures for Getting a License: A candidate must take an exam to obtain either a journeyman or master plumbing license.
How to Apply for the Test: To apply to take the journeyman or master plumber exams, contact the following:
Alabama Plumbers and Gas Fitters Examining Board
11 West Oxmoor Road, Suite 104
Birmingham, AL 35209
For more information call (205) 945-4857.
Test Content: The journeyman and master plumbing exams have the following content and specifications:
Journeyman - 70 questions, 3 hours in duration, open book
Master - 100 questions, 4 hours in duration, open book
Fees: There are fees to take the test.
Qualifications to take the Exam and receive a License: A candidate for journeyman plumber must have at least 2 years registered as an apprentice or completed a Board approved apprentice training program. A candidate for master plumber must have had a journeyman plumbing license for at least 1 year.
Who Administers the Test: Professional Testing Inc.
License Renewal: Licenses must be renewed each year by December 31st. There is no continuing education requirement.
Applicable Code: Alabama follows the International Plumbing Code established by the International Code Council.
______________________________________________________
For more information on licensing and exam preparation, go to Tests.com's
Journeyman Plumbing Test Guide
And take Tests.com's Plumbing Practice Test.
For plumbing exam preparation products and services, such as study guides, practice tests, flashcards and courses, go to Tests.com's Journeyman Plumber Exam and Master Plumber Exam listings.